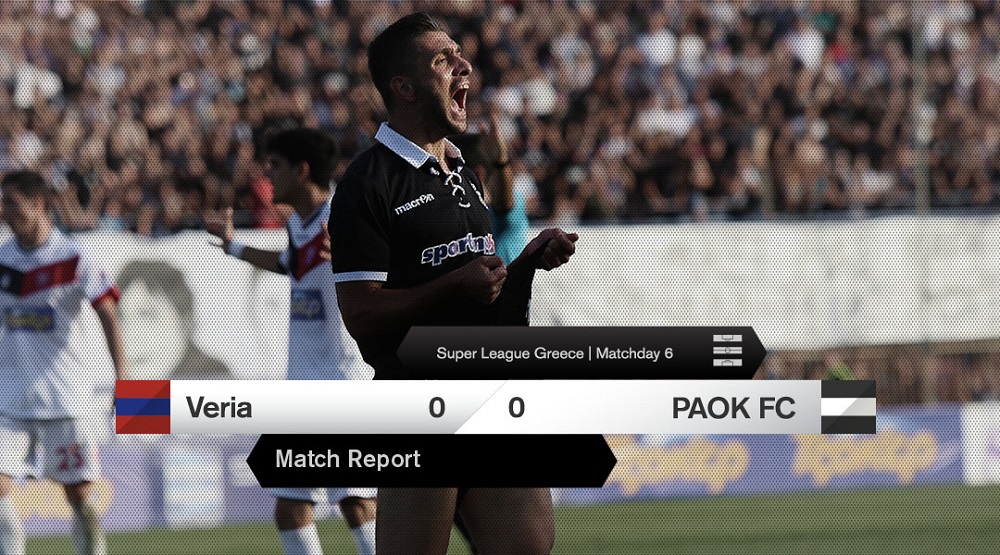 The assistant's blurry vision…
PAOK lacked effectiveness in their third game of the week and were held to a goalless draw in Veria. The "Double-Headed Eagle" had few chances and scored a perfectly legal goal with Pereyra in the 43rd minute, but it was disallowed because assistant referee Chouskoglou waved his flag for offside. There were at least two players keeping the PAOK player onside for at least 3 metres and there was no obstacle hindering the assistant's vision!
Vladan Ivić's troops, obviously affected by back-to-back matches, lacked freshness, but dominated the encounter and wasted opportunities to score.
In the 9th minute, Giannis Mystakidis hit a header that went just wide. Two minutes before the interval, Facundo Pereyra's goal was disallowed –only God knows why!
The quick substitutions in the second half didn't provide the necessary pace, but PAOK remained in command. Diego Biseswar boosted the attack and teed up Djalma Campos perfectly, but the latter didn't get to the ball as quickly as he would have liked to in the 67th minute. Marin Leovac missed the target despite having nobody marking him in the 74th minute, while Efthymis Koulouris's shot in the 74th minute went straight into the arms of López.
The "Double-Headed Eagle" dropped two valuable points in Imathia and the system, spearheaded now by Kyros Vassars, did their best to cut their nemesis's pace.
Line-ups:
Veria: López, Kali, Navalovski, Malón, Arce (83′ Papasterianos), Melikiotis (59′ Charontakis), Marangos, Balafas, Vasilantonopoulos, Kapetanos, Vitti (55′ Sisinio).
PΑΟΚ: Glykos, Leovac, Varela, Malezas, Crespo, Cimirot, Charisis, Mystakidis (74' Koulouris), Rodrigues (46' Campos), Pereyra (62' Biseswar), Athanasiadis.