paokfc.gr/Uncategorized/
Welcome to the Mak family [photos & video]
Welcome to the Mak family [photos & video]
He became a father, he played his first European encounter and scored, he is a regular with the national team of Slovakia and he already stands out for his strong performances as a star of the current Super League. It's obious that Róbert Mak is going through the best time …
03.10.2014
He became a father, he played his first European encounter and scored, he is a regular with the national team of Slovakia and he already stands out for his strong performances as a star of the current Super League. It's obious that Róbert Mak is going through the best time of his career. Actually, the best time of his life…
Always smiling, he radiates on the pitch and is living his dream outside the sidelines, in the company of equally happy Susan, their baby Robin and the guest star of this interview, Aira, the dog of the Mak family.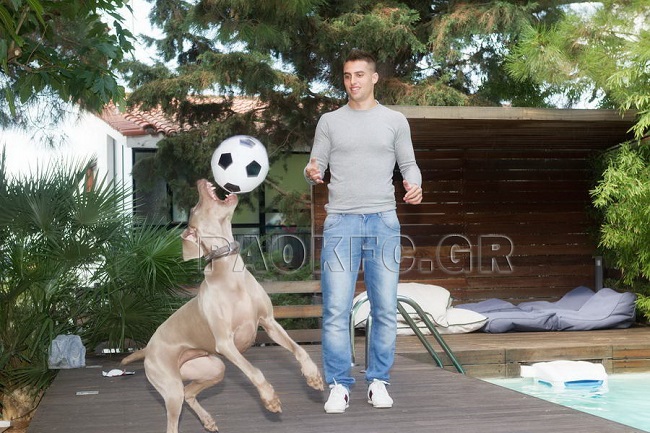 After PAOK's emphatic victory over OFI Crete, Róbert Mak invited us to his home for the first time and let us photograph him along with the other members of his family. He spoke to paokfc.gr about the things that make him happy, the great spots of Thessaloniki, the feeling of fatherhood, how he met Susan… But spoke also about Angelos Anastasiadis and the team's stormy start to the league. In case anyone was doubting it, Mak says: "I am going through the best spell of my career".
Read the exclusive interview of the Slovakian attacking midfielder to PAOK's official website, see the photographs taken at his house in Panorama and watch the backstage video of PAOK TV, with Aira stealing the show.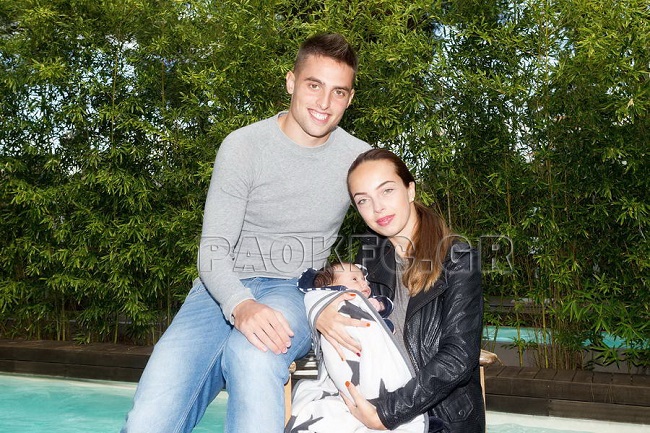 Let's start with the woman of the family. What are your first impressions of Thessaloniki and life in Greece?
Susan: It's beautiful here. More beautiful than I expected! To be honest, at first I was worried about what we would face, after living in Nurnberg, in Germany, where life is quite different. But everything is perfect. The weather, the city, the food, the people…
Isn't it hard to raise a baby in a foreign city and country?
Susan: No, it's easy and I am glad we have our baby.
Róbert: Susan gave birth in Slovakia near her family and came to Thessaloniki six weeks later with her folks. Her sister is also here to assist her. It helps as well that our baby is quiet. He just eats and sleeps. The only issue is night sleep, but so far things have been going smoothly.
Have you realized the changes in your life after Robin's birth?
Róbert: Our top priority now is the baby. Nothing else matters. We wanted to have a child so much. We are young and we want to live with him, travel with him. We are not one of these families that settle at home with their children. The only difference now is that our wishes come second. We might want to go to eat or take a walk, but right now that is complicated.
Is Róbert a good father?
Susan: Yes, he is very good and he helps me all the time.
Róbert: I am trying to participate as much as I can. At night, of course, I can't do anything. From then on, of course, we go for a walk and we take our dog also to the beach as she needs the exercise as well. It's our second child! When we have the time, we prefer to spend it all together.
How do you each describe the feeling of being a father and a mother respectively?
Róbert: Some might thing I am still young, just 23, to raise a family, but that was something we both wanted very much, as I told you before. We have been together for three years. I was alone in Germany, I needed a companion, I met Susan and we clicked. We both wanted to start our own family, we first adopted the dog and now we have our child.
When and how did you meet?
Róbert: It's a strange story actually. We met in Germany when I was still with my former girlfriend. Susan had come to Nurnberg with her best friend, who also happens to be a friend of mine in order to watch one of my games. We met, we talked, we hung out during her stay but nothing happened then. When they left, she sent me a message to thank me for everything and that's when we started to talk. Susan made the first step (laughs)! No, I am kidding, it was a mutual thing. A few weeks later, I went to Slovakia, we met again and started dating.
You have said before that you are happy at PAOK. Your wife is also happy. What is it about Thessaloniki that you like the most?
Susan: The shops, the restaurants!!! (laughs)
Róbert: She likes seafood very much and, whenever possible, we go out to dinner. We also love the weather. It's always sunny, it's not cold. In just half an hour, we can be at the beach for a swim or take a stroll with the baby.
Susan: People are warm and friendly and always offer to help.
Róbert: Up until now it's been great. Whenever we have free time, we take advantage of it, exploring the most beautiful parts of the city. That was among the reasons of me deciding to come to Thessaloniki.
The birth of your child and the living conditions affected your choice of club? It is well known that, before signing for PAOK, you were close to joining Legia Warsaw…
Róbert: Yes, Legia had placed an offer indeed and I discussed it with my family. From then on, of course, the place where my child would grow up played a significant part in my decision. I firmly believe that life here would be better for my wife and son. Living in Thessaloniki is like a vacation for Susan. She has the sea close by, no need for long drives, everything is nearby. However, at the end of the day, the main criteria for picking PAOK were football-related. I believed that my prospects were better here and that's why I reached this decision.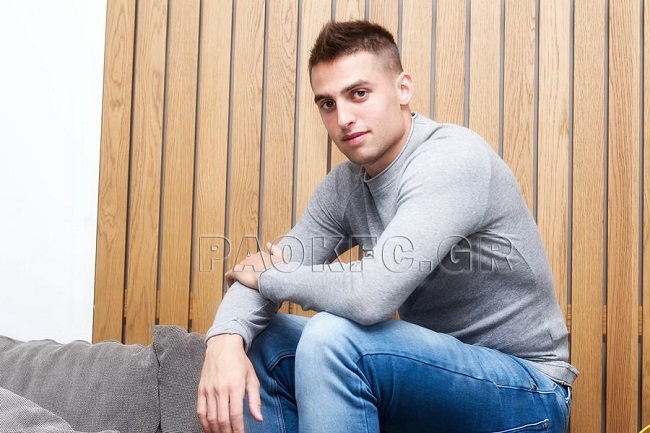 When you score, you celebrate forming the heart shape. Is this dedicated to Susan or to little Robin?
Róbert: It's for me (laughs)!! Seriously now, I celebrate like this since the day my boy was born. I point to the heart and I kiss the finger of my wedding ring. That's my way of showing my family what they mean to me.
How does it feel to watch him on TV celebrating this way?>
Susan: I feel very happy and proud for Róbert.
Róbert: In each match she sends me messages that she is very happy to see me do well with the team and that she can't wait for me to return home and congratulate me.
Do you watch the games?
Róbert: Are you kidding? She took Róbert and came to Toumba for the encounter against Dinamo Minsk.
Susan: Yes, I wanted to come to Toumba for the first time to watch Róbert up close playing. My family were here as well, so I had help with the little fellow. That was my Toumba debut!
Róbert: Now we subscribed to pay ΤV so that she can watch the away games as well. She doesn't miss a match.
You love football in general or are you Róbert's fan exclusively?
Susan: Just Róbert.
How would you describe him as a player then?
Susan: He is very fast, technically skilled, but I think that he is a bit afraid sometimes.
Róbert: Every time she tells me "you don't play at all in the air, you don't tackle, you avoid one-on-ones the other players do".
Susan: It was different in Germany. Here he scores and plays much better.
Róbert: She is always making comments and she's right. I have to improve. Every player has to work in order to improve.
Susan is more strict with you than Mr. Anastasiadis?
Róbert: Yes, of course (laughs!) After each match, she tells me what my mistakes were.
Susan: However here at PAOK he is better than he was at Nürnberg.
Describe us Róbert as a person
Susan: He is very nice, takes care of me, of the baby and of our family all the time. I feel secure around him, he is always there when I need him, he is my friend, he is funny, we have a good time together. I also like that he prefers to stay with us than go out with his friends for a beer (laughs)!
Have you made any friends in the team?
Róbert: I am close to most of the guys, they often invite me out for coffee or dinner, but right now it's quite difficult. Before Robin was born and before Susan came to Thessaloniki, I would meet with Kace, Pereyra, Golasa, as we both stayed at the hotel, Pozoglou, Koulouris, with several guys. Now it's hard. I finish training and I want to return home. A baby in the house takes up much of our time and, as I told you earlier, he is our top priority. We would love to go to a nice restaurant, but now it's tough. We have to make sure that he won't get hungry, he won't cry –all the stuff that parents look out when they have a baby. He really enjoys it when we go to the beach. We put him on the stroller and he can sleep non-stop for five hours. Unbelievable!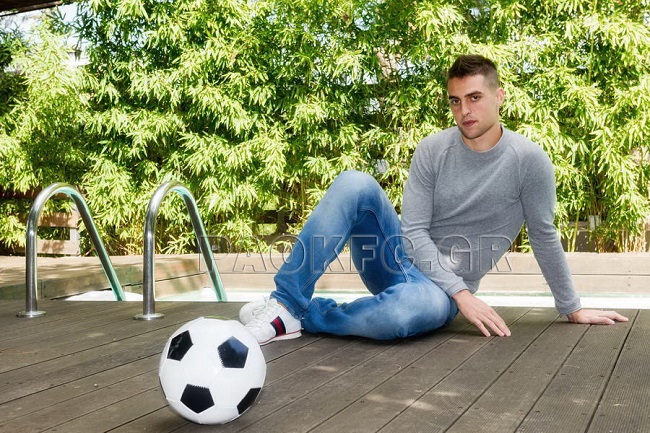 Let's talk about football now. Were you expecting to start so strongly at PAOK, be so decisive?
Róbert: I can tell you that I was impressed by the coach when I joined them in the Netherlands. We met before I signed and started asking me all sorts of questions. It struck me as odd, but I realized that he wants to have it all organized. He is a very nice man, likes to joke –he can be quite weird at first and some tend to misunderstand him. When I joined trainings, I saw the team's quality, we played friendlies, the internationals came eventually and we became a tight group. Nobody in the team was expecting such a start, with the exception of the first two encounters. We are at the top of the standings and we have shown our potential. These are the best time of my career. I love to play, I feel at ease, I score and help the team. To answer your question, no, I was not expecting all this to happen so soon, but I came to PAOK to achieve things and I am very happy.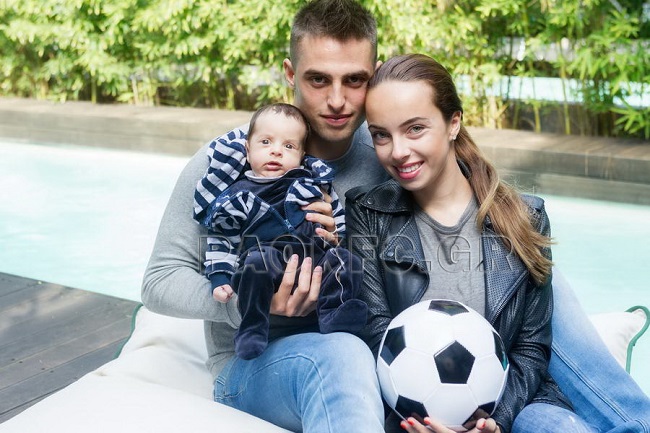 Can the team keep up the same pace?
Róbert: Of course, we have many matches ahead and we must keep up that rhythm. In football of course one never knows what can happen in the near or not so near future, but we have to keep working hard in trainings.
What has changed and you play better now than when you were at Nurnberg, as Susan said earlier?
Róbert: I don't know. I was in Germany for four years and I told Susan that I needed a change. I couldn't stay there anymore, I couldn't be with the same people and I told her: "In order to play better, I need to get out of here. I don't know where, but I won't stay here anymore". It's beautiful in Germany, but I needed to feel free again, to feel passionate about football once again, to score. Fortunately for me, PAOK appeared, the coach trusted me and I am very happy to be in the squad".