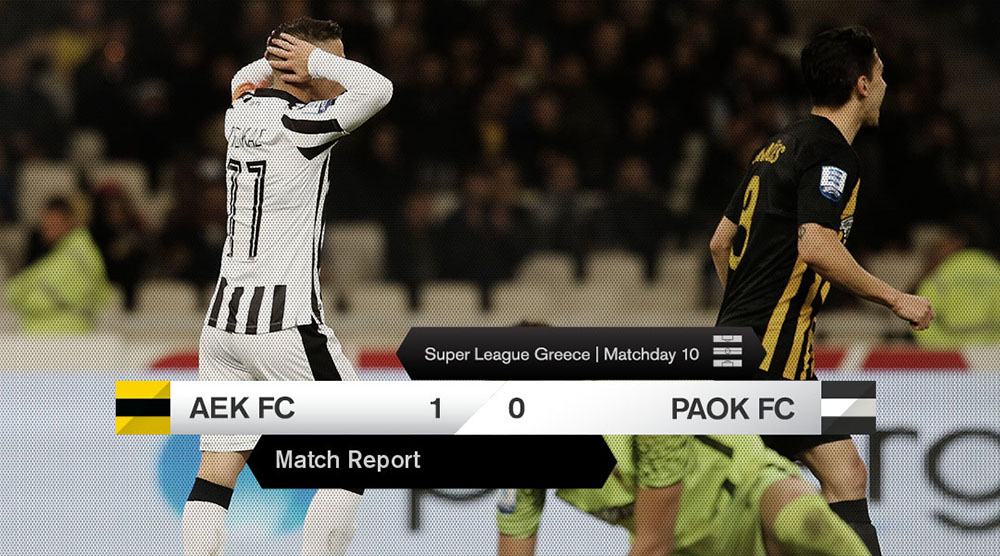 PAOK failed to find the way
PAOK didn't start badly and tried to create danger with  Adelino Vieirinha . The Portuguese shot fiercely, but  Aleksandar Prijović  who was quick to catch the rebound didn't get the ball on the right angle.
The complexion of the encounter changed after Araujo was sent off, however the "Double-Headed Eagle" didn't make the most of their numerical advantage. Apart from that, AEK got lucky and scored the opener against the run of play in the 25th minute.
In a match with many niggling fouls in midfield, Carlos Zambrano committed one that brought his own dismissal from the game, creating many problems to his team. Both teams hit the dressing rooms for the interval, still trying to cope with the new 10v10 situation.
PAOK pressured a lot in the second half, camped in AEK's box, looked for their chances to equalize, but their hosts were successful in managing the remaining time in their favour.
Prijović wasted a huge chance (one of those he nails nine times out of ten) for a simple-touch equalizer, following a cross by Vieirinha. The match was practically over, but there still was time for  Diego Biseswar  to get sent off as well.
PAOK are now 3rd place in a league race without big distances between contenders, but they haven't yet produced a good result away from home.
Line-ups:
ΑΕΚ Athens(Manolo Jiménez): Anestis, Vranješ, Ćosić, Bakakis, Galo, Lopes, Simões, Johansson, Livaja (66′ Bakasetas), Christodoulopoulos (74′ Galanopoulos), Araujo.
PΑΟΚ ( Răzvan Lucescu ):  Rey ,  Matos ,  Varela , Zambrano, Leovac (42′  Crespo ),  Shakhov  (46′ Campos), Cimirot,  Vieirinha ,  El Kaddouri ,  Pelkas ,  Prijović