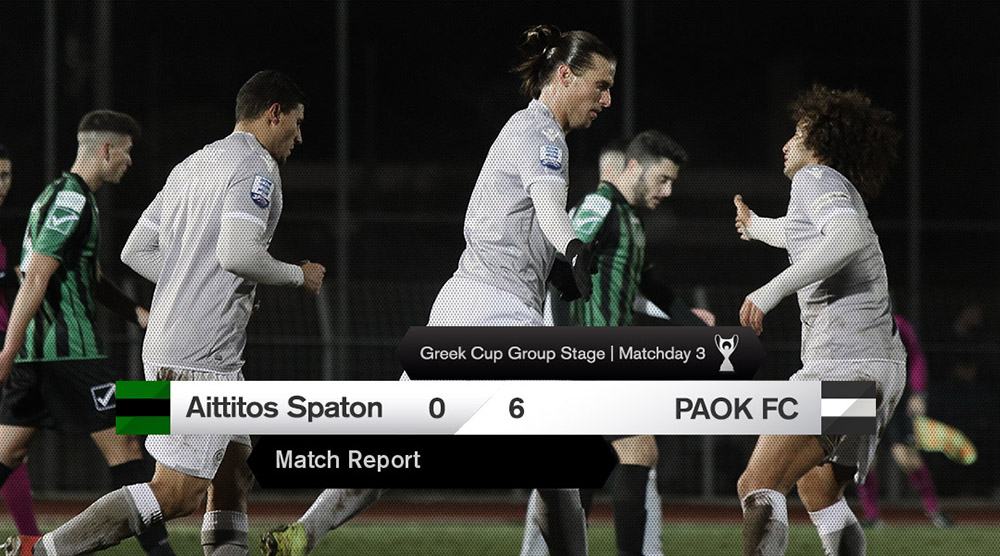 PAOK bid goodbye to 2018 with 6 goals
PAOK were demure in their trip to Athens and achieved their goal against Aittitos Spata. The quality gap between the two sides didn't allow for safe conclusions on the unplayable pitch. The "Double-Headed Eagle" got the result they were after, by playing attractive football.
Nikos Karelis scored his first goal for PAOK in the 16th minute and José Alberto Cañas made it 2-0 ten minutes later. Răzvan Lucescu's troops wasted many opportunities for a bigger lead in the first half, with José Ángel Crespo getting denied by the woodwork and Chuba Akpom shooting wide from point blank.
After the interval, Aleksandar Prijović came off the bench to substitute Akpom and was in high spirits. The Serbian killer netted a hat-trick, his first at PAOK. Karelis completed his brace to make it 6-0.
Konstantinos Balogiannis and Lefteris Lyratzis made their debut for PAOK's senior team. They both entered the match in the second half. Lyratzis teed up Prijović for the simplest of finishes but the Serbian striker missed his shot, while Balogiannis provided the assist for one of Prijović's goals.
After the suspension of day 15 of the Super League Souroti, PAOK completed their 2018 engagements, topped their Greek Cup group and will learn their next opponent in the competition on Friday.
Ergotelis also made it to the knockout stage of the Greek Cup, after defeating Aris 3-2 in Heraklion and eliminating them.
Line-ups:
Aittitos Spata: Κokkalas, Spyropoulos, Κollaras (46' Lamprou), Iraklis, Stamatakis, Grontis, Kasnetsis, Chatziioannidis, Magas (58' Κatseris), Κalogeris, Vuković (61' Κokkoris).
PΑΟΚ: Rey , Crespo (67' Lyratzis ), Malezas, Khacheridi, Toșca , Cañas , Biseswar (64' Balogiannis), Limnios , Warda , Karelis, Akpom (46' Prijović ).