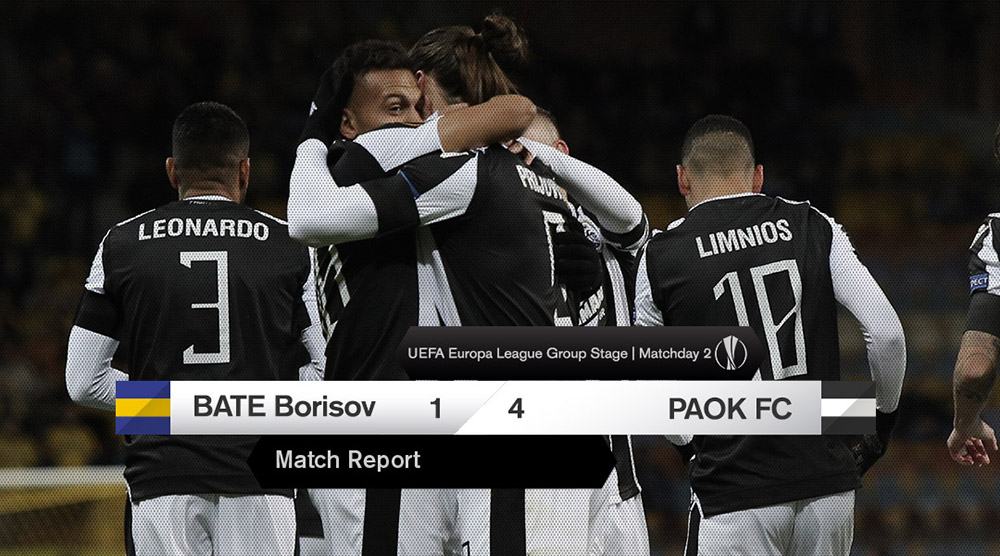 Signed and sealed by Jabá
On an emotionally charged day, PAOK played also for the six youngsters who lost their lives in Tempi 19 years ago. And they cruised to an impressive 4-1 victory over BATE Borisov in Belarus.
Răzvan Lucescu made just two changed to the line-up he fielded last Sunday against Olympiakos. He started with Alin Toșca and Léo Jabá, keeping Adelino Vieirinha and Diego Biseswar on the bench. The young Brazilian winger took the opportunity and justified his coach's decision.
PAOK flew off to a magic start and found themselves leading 3-0 by the 17th minute. Jabá kicked off his exhibition with a pin-point cross for Aleksandar Prijović whose header gave the lead to the visitors in the 6th minute.
Five minutes later, the Brazilian turned scorer with a fine individual effort, dribbling his opponent and firing for PAOK's second goal. In the 17th minute, Maurício picked Jabá with an excellent defence-splitting ball and the latter made it 3-0 with an impeccable finish.
The "Double-Headed Eagle" overwhelmed their opponents in the first half, dictating pace and never allowed BATE to create real danger around Alexandros Paschalakis's area.
After the interval, the home side tried to get back into the game. Rios fired a warning shot but was denied by Paschalakis. In the 61st minute though, they managed to reduce distances thanks to a shot by Skavysh deflected by José Ángel Crespo's shoulder before landing at the back of the net.
PAOK hadn't spoken their last word though. Dimitris Pelkas and Jabá combined in the 73rd minute, the Greek international firing a superb technical shot to make it 4-1 for the "Double-Headed Eagle".
PAOK kept pushing for a fifth goal, but Biseswar was denied by woodwork in the 89th minute.
Lucescu's troops landed their first victory in their UEFA Europa League group stage and gained a healthy advantage over BATE Borisov who also have three points. Chelsea lead the standings with 6 points, after defeating Vidi 1-0 in London with a second-half goal by Álvaro Morata.
Line-ups:
BATE Borisov: Scherbitski, Rios, Polyakov, Filipenko, Volodko, Yablonski, Dragun (71' Hleb), Baga, Stasevich (77' Gordeichuk), Tuominen (59' Skavysh), Ivanić.
PΑΟΚ: Paschalakis, Matos, Varela, Crespo, Toșca, Cañas, Maurício, Limnios (70' Biseswar), Pelkas, Jabá (85' Vieirinha ), Prijović (76' Akpom).