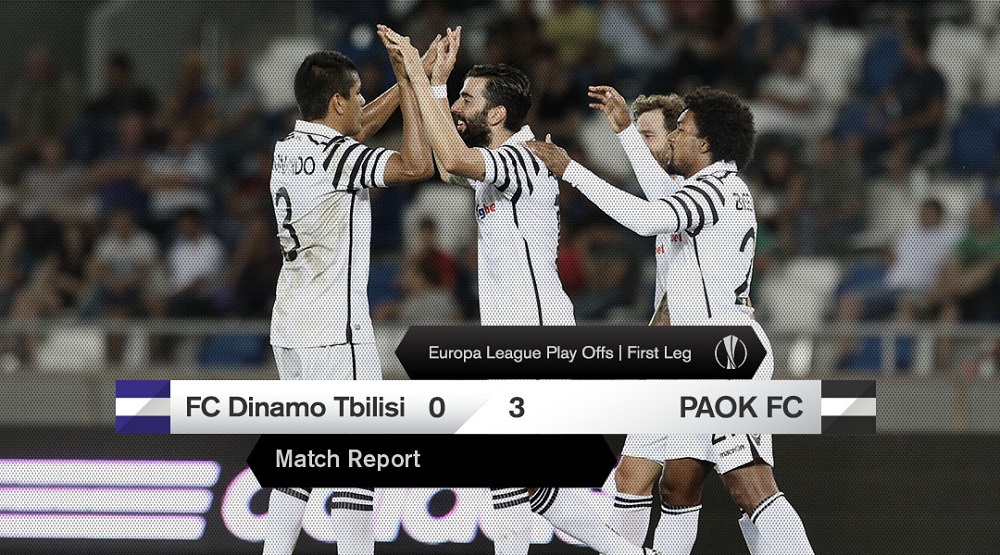 Vladan Ivić had already stated his intentions on the eve of the match: "I am only interested in qualification"… His players duly obliged and all but secured their presence in the UEFA Europa League group stage after prevailing 3-0 over FC Dinamo in Tbilisi.
This match will soon be forgotten, pace- and spectacle-wise. But PAOK's focus and effectiveness for yet another away encounter in European competition will not be forgotten.
The "Double-Headed Eagle" were boosted by converting their first chance in the game. In the 20th minute, Garry Rodrigues took the corner and Léo Matos made it 1-0 with a header. The lead allowed PAOK to negotiate the encounter without taking unnecessary risks.
After the interval, the Thessaloniki outfit encountered more open spaces. After Rodrigues wasted a huge chance in an one-on-one situation with the French goalkeeper of FC Dinamo Tbilisi, it became evident that PAOK were closer to extending their lead than getting equalized…
PAOK doubled their lead in yet another dead-ball situation, with Rodrigues taking the corner and Giorgos Tzavellas serving a back-heel assist to José Ángel Crespo who scored from close range. Before the home players could a grip of what was happening, Facundo Pereyra who had just been introduced on the pitch met Diego Biseswar´s fine cross with a diving header to seal PAOK´s 3-0 victory.
Having made a huge step towards the group stage of the competition, Vladan Ivić's troops can focus on the second leg, aiming to record an even bigger aggregate score, liberated from stress.
Line-ups:
FC Dinamo Tbilisi: Scribe, Lobjanidze (58' Τevzadze), Amisulashvili, Tsintsadze (70' Alvaro), Papunashvili (63' Dvalishvili), Kiteishvili, Parunashvili, René Santos, Jighauri, Chelidze, Chanturishvili.
PΑΟΚ: Glykos, Matos, Crespo, Tzavellas, Leovac, Cimirot, Shakhov (67' Biseswar), Charisis (46' Cañas), Campos (81' Pereyra), Rodrigues, Athanasiadis