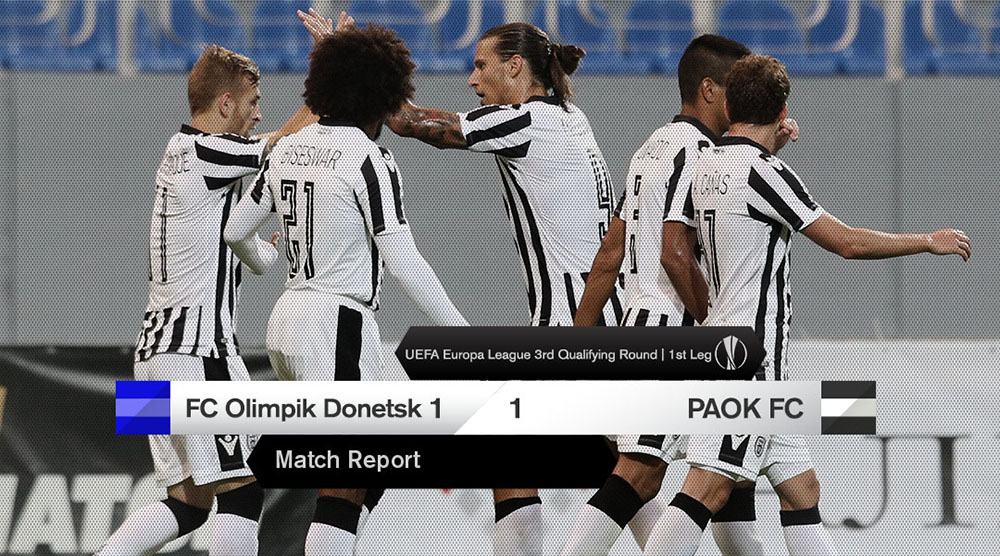 PAOK didn't win, didn't perform particularly well, but did manage to get a 1-1 result out of their Kiev clash against FC Olimpik Donetsk.
Qualification to the UEFA Europa League play-offs will be decided in the second leg. However the "Double-Headed Eagle" need to improve, even if it's normal for them to be off-form in this stage of the season.
Aleksandar Stanojević started the game with a 4-3-3 formation and José Alberto Cañas , Gojko Cimirot and Yevhen Shakhov in midfield, aiming to control possession. His plan worked partially. The black-and-whites were not threatened by their rivals, but weren't threatening either in the first half. PAOK's only classic chance to score was a shot by José Ángel Crespo .
After the interval, the "Double-Headed Eagle" wasted two big opportunities to break the deadlock through Róbert Mak and Aleksandar Prijović . It looked as if the Thessaloniki outfit had snapped out of their nap. However, it was FC Olimpik Donetsk who scored, Bilenkyi making the most of a set piece in the 49th minute.
Two quick substitutions of Stanojević ( Diego Biseswar and Pedro Henrique coming off the bench) allowed PAOK to overcome the shock and become livelier in attack. The Brazilian winger equalized in the 59th minute with a splendid individual effort.
In the last half hour, the hosts were more energetic, but the "Double-Headed Eagle" held on to the 1-1 scoreline that turns them into tie favourites for the second leg next week.
Line-ups:
FC Olimpik Donetsk: Makharadze, Lukyanchuk, Kravchenko, Shabanov, Nyemchaninov, Tsymbalyuk, Bohdanov, Khomutov (69' Mikhalyov), Moha (64' Mihunov), Shestakov, Bilenkyi (78' Sondey)
PΑΟΚ: Rey , Μatos, Varela , Crespo , Leovac, Cañas , Cimirot, Shakhov (55' Biseswar ), Campos (55' Henrique), Μak (81' Pelkas ), Prijović