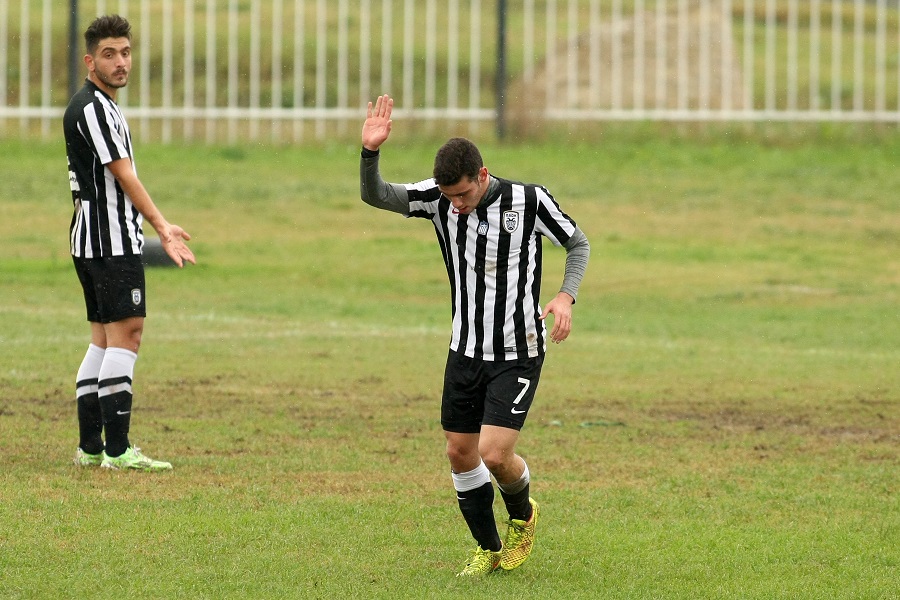 Victory slipped through their hands
PAOK U20s were aiming for their fourth consecutive victory in the league and came agonizingly close to defeating Panathinaikos. However in the 94th minute the visitors equalized unexpectedly for the final 1-1. Vladan Ivić's players remain 5th with 17 points, but have closed considerably the gap with the top-placed teams.
On a rain-soaked pitch, both teams engaged in a hard-fought encounter with action at both ends of the pitch. PAOK took the lead in the 15th minute with a close range shot by Savvidis set up by Deligiannidis. A few minutes earlier Soilemezoglou had produced an excellent save denying the visitors from breaking the deadlock themselves.
After the interval, PAOK were in control of proceedings at least until the 75th minute, however Panathinaikos were threatening when given the opportunity. And they were provided the break they were looking for deep into injury time, when PAOK defenders failed to clear the goalkeeper's long distribution and lurking Berisha poked in the equalizer, seconds before the final whistle of the referee was heard.
Line-ups:
PAOK U20: Soilemezoglou, Topalidis, Vasaitis (46΄Tsiampazis), Tselepidis, Pouggouras, Patralis, Savvidis, Toumanidis, Deligiannidis (59΄Tsolakidis), Pozoglou, Koulouris (70′ Kushta).
Panathinaikos U20: Kotsaris, Tudor, Myrthianos, Athanasopoulos, Sioulis, Balatsouras, Lamprou, Tzanoulinos, Berisha, Niouman, Ymeraj.