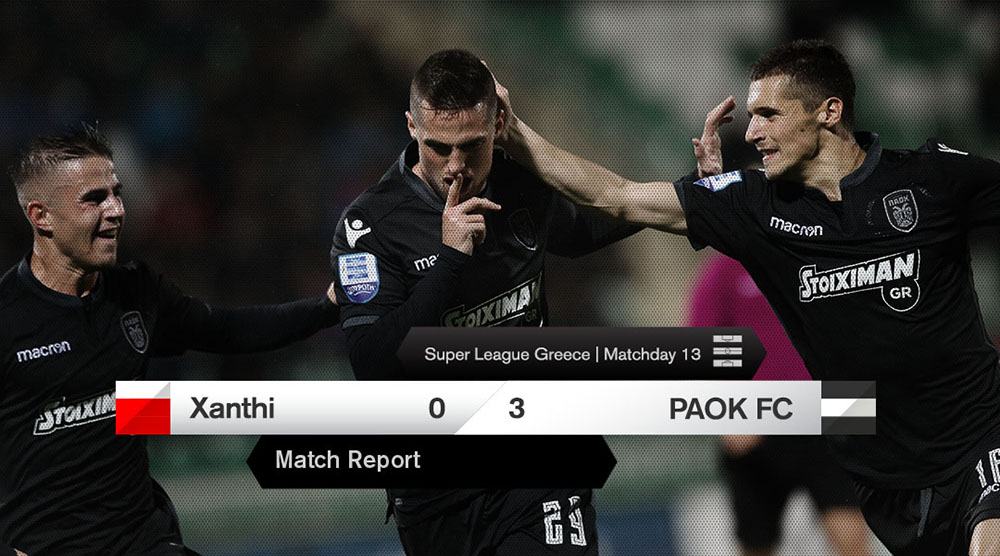 First victory away from home (but it felt like home…)
Recording an away victory after six failed attempts had become an obsession. But Răzvan Lucescu didn't let this opportunity slip away. With the most… Greek line-up in the league, the "Double-Headed Eagle" were determined, clear-minded and aggressive right from the start.
The home side scored the opener but… at the wrong end of the pitch. De Lucas was caught unawares by the ball's trajectory and gave PAOK the lead. The "Double-Headed Eagle" players celebrated with their coach, but didn't stop there.
Dimitris Limnios teep up Róbert Mak with an astonishing move and the latter made it 2-0 with a double effort.
PAOK players learned from the bad experience of Nea Smyrni and were very cautious in the first minutes of the interval. They held on to the ball, paid attention to Xanthi's expected pressure and also managed to extend their lead to 3-0, thanks to a header by José Ángel Crespo !
PAOK had no difficulty keeping control in the last half hour and were acclaimed by 3.000 fans who made the trip to watch them win, one week before Toumba hosts its first league encounter with the stands full.
Line-ups:
Xanthi: Živković, Svarnas, Baxevanidis, De Lucas (52' Meliopoulos), Lucero (77' Fasidis), Mejía, Kike (55' P. Orfanidis), Jendrišek, Sylla, Lisgaras, Casado.
PΑΟΚ: Paschalakis , Crespo , Varela , Matos , Vieirinha (70' Malezas ), Cimirot, Cañas (74' Maurício ), Limnios , El Kaddouri (12' Mak), Pelkas , Koulouris.