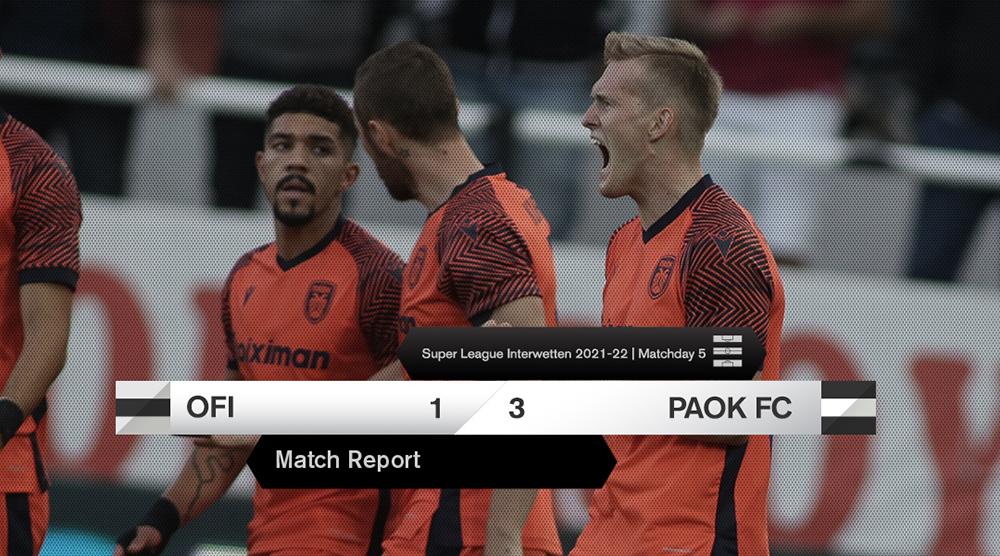 And the series continues…
Dominant, spectacular at times, markedly improved and full of substance. PAOK ticked all of these boxes on a night when they came away from Heraklion, Crete with a 3-1 win to make it three-out-of-three away wins so far in this year's Super League Interwetten.
Seven first-team regulars missing. Fatigue from a series of consecutive games. Another trip away from the Toumba. PAOK knew before this game that there were plenty of obastacles before they even ran out onto the pitch in Heraklion. And that's in addition to facing a strong and dynamic opponent, who until a few hours ago was undefeated in the league. However, PAOK did not break.
Razvan Lucescu's team showed character in abundance, played exceptionally well, and collected a very important three-point haul from a difficult ground.
The Romanian coach's selection saw Paschalakis between the posts, Michailidis and Mihaj in central defence, and Rodrigo and Vieirinha in the full-back positions. The midfield trio was Kurtic, Schwab and Douglas, behind front pair Biseswar and Swiderski .
The visitors pushed for a quick goal from the first minute and Swiderski missed two great opportunities to open the scoring. OFI responded with a shot from Neira that was saved by Paschalakis and an excellent goal-line clearance by the head of Vieirinha in the 12th minute.
In the 15th minute, however, Swiderski did not miss. Andrija Zivkovic found the Polish forward with an excellent cross from the right, and the PAOK frontman put his team ahead with a great header.
Up until the half-time the game was limited mainly to the midfield area, featuring some tough one-on-one battles, a flurry of fouls, while chances were at a premium.
In the second half, PAOK once again started with urgency and energy, imposing their rhythm onto OFI and managed to lay a solid foundation for victory.
The second goal came in the 58th minute when Jasmin Kurtic converted a free-kick, before in the 71st minute, Douglas Augusto added a third goal from Rodrigo's perfect pass.
The home side tried their best to respond and three minutes later Paschalakis was called upon to stop a shot by De Guzman, but OFI did manage to grab a consolation goal in the first minute of added time through Nabi to make the final score 3-1.
PAOK has now completed a very difficult series of games, and the club now are aiming to take advantage of the international break for rest on the one hand, but to also work to make some further improvements and be ready for more tough matches that are on the horizon in October.
Team lineups:
OFI (Nikos Nioplias): Epassy, Marinakis, Diamantis, Pasalidis, Korovesis (65′ Froixos), Weiss (84′ Balogiannis), De Guzman, Selimovic, Neira (85′ Giannoulis), Van Duinen (78′ Nabi), Durmishaj
PAOK (Razvan Lucescu): Paschalakis, Rodrigo, Michailidis, Mihaj, Vieirinha (77′ Sidcley), Schwab, Kurtic, Augusto (72′ Esiti), Biseswar (77′ Mitrita), A. Zivkovic (81′ Konstantelias), Swiderski (72′ Akpom).