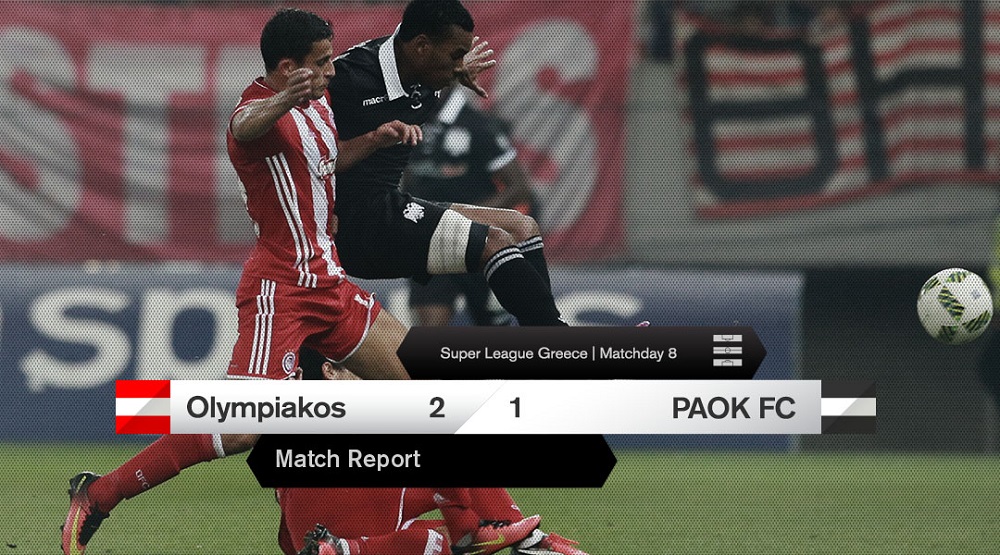 With a little help from their friends…
PAOK were better and deserved to edge out a victory in Karaiskakis, based on their performance and chances created. But they didn't, because Olympiacos leveled with an offside goal and Milivojević was pardoned a red card by Aretopoulos and remained on the pitch to score the winner…
PAOK started strongly and scored an early opener with Fernando Varela following a corner kick. A few minutes later, Djalma Campos wasted a huge chance to increase the lead, while Panagiotis Glykos stopped Elyounoussi's dangerous shot. Afterwards, Ideye started from an offside position and provided a low cross that looked manageable for PAOK's defence, however failure of communication between Glykos, Léo Matos and Varela led to the latter scoring an own goal.
Vladan Ivić's troops had a clear plan on the pitch. The Serbian tactician's trick with Gojko Cimirot as holding midfielder and José Alberto Cañas–Yevhen Shakhov in front of him paid off, as PAOK closed spaces in midfield and defused the home side.
In the 44th minute, Stefanos Athanasiadis broke free in attack with only Kapino to beat and Milivojević brought him down. Those waiting to see Αretopoulos's red card are still… waiting! It seems that the law of the game stating that "a red card is shown for denying an obvious goalscoring opportunity to an opponent moving towards the player's goal by an offence punishable by a free kick" is not applicable in Greece! So, the Serbian midfielder of Olympiacos was allowed to remain on the pitch.
Start of play in the second half was delayed by 10 minutes, due to the smoke of flares, but that didn't discourage the "Double-Headed Eagle". Klaus came close in the 59th minute with a shot from point-blank and, two minutes later, Campos went one-on-one with Kapino and wasted a tremendous opportunity to score, sending his shot wide. Klaus and Campos missed more opportunities (on the 75th and 78th minutes respectively). Olympiacos replied with a header by Botía, but Glykos produced a magnificent save to deny him in the 79th minute.
Garry Rodrigues was stopped in his tracks with a non-existent offside in the 82nd minute and, five minutes later, his shot was blocked by Olympiacos's defenders. In the 96th minute, Milivojević made it 2-1 with a header against the run of play.
Goal celebrations were once again accompanied by flares. Vladan Ivić and his players returned to the dressing rooms until the air cleared and Aretopoulos suspended the match. Of course, nobody really expected him to abandon the encounter… The two sides returned on the pitch to play the remaining 3 minutes that brought no change to the scoreline.
The "Double-Headed Eagle" are understandably disappointed with the result, but they should be proud of their performance.
Line-ups:
Olympiacos: Kapino, Bruno Viana (46′ Elabdellaoui), Botía, Da Costa, Figueiras, Milivojević, Martins, Fortounis, Sebá, Elyounoussi, Ideye.
PΑΟΚ: Glykos, Matos, Μalezas, Varela, Leovac(84′ Crespo), Cimirot, Cañas (46′ Charisis), Shakhov(74′ Biseswar), Rodrigues, Campos, Athanasiadis.