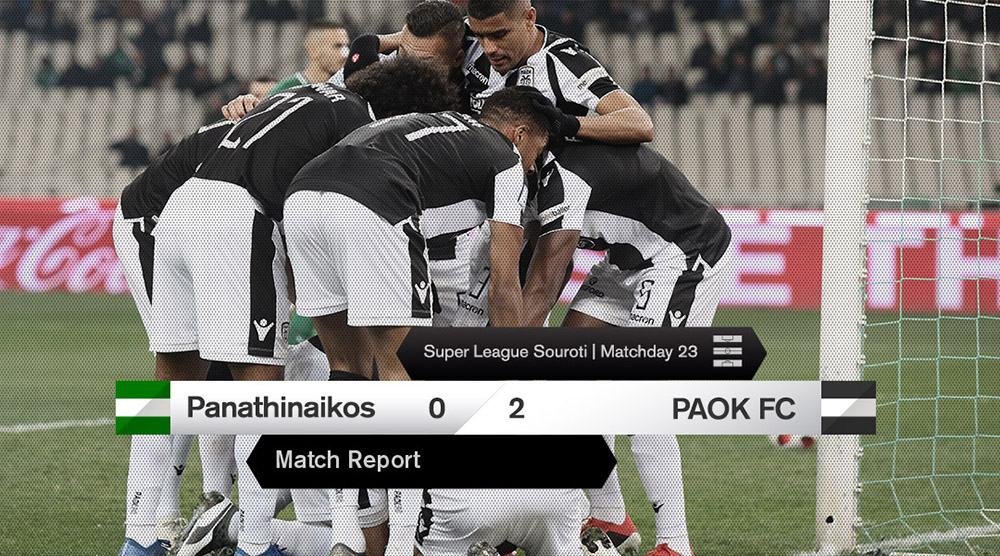 PAOK storm past Panathinaikos
The clash at the Olympic Stadium of Athens against Panathinaikos proved a very one-sided affair. PAOK were demure, determined to win and ended up celebrating a very important victory, despite the absences and accumulated fatigue from the Toumba battle against Panionios.
The visitors flew to an ideal start, as they gained the lead with the first chance they got. Vieirinha took the corner kick and Maurício, lurking near the far post, scored with a point blank shot.
PAOK remained in control of proceedings and in possession of the ball, looking for the goal that would seal their three-pointer. Maurício and Akpom squandered gilt-edged opportunities and, in the last 10 minutes of the first half, the home side tried to level the score. Paschalakis was there though to prevent Macheda from scoring at stoppage time before the interval.
The second half started just like the first. With a PAOK goal. In the 47th minute, Matos passed to Biseswar, Kourbelis tried to tackle but the ball landed on the path of Jabá who extended the lead of the "Double-Headed Eagle" with a fine finish.
PAOK kept hammering shots, Dioudis denying Jabá in the 55th minute, Akpom firing wide five minutes later and Pouggouras drilling another shot past the post three minutes later.
In the 72nd minute, Jabá's unintended tackle on Johansson was punished severely by the Danish referee with a red card -the same referee who allowed Panathinaikos players a very physical game.
Lucescu's troops kept their cool head, defended impeccably and Paschalakis intervened whenever necessary. PAOK could have won by a larger margin, had Henrique and Oliveira not wasted two excellent opportunities in the last minutes.
The final whistle saw the "Double-Headed Eagle" players celebrating a mighty win and remaining undefeated on their way to the league title.
Line-ups:
Panathinaikos: Dioudis, Johansson, Kolovetsios, Mavrommatis, Insua, Pouggouras (69' Altman), Kaçe (69' Donis), Κourbelis, Chatzigiovanis (46' Εmmanouilidis), Bouzoukis, Μacheda
PΑΟΚ: Paschalakis , Μatos, Varela , Crespo , Vieirinha (82' Henrique), Limnios , Shakhov (77' Giannoulis ), Maurício , Jabá , Biseswar (70' Οliveira), Akpom