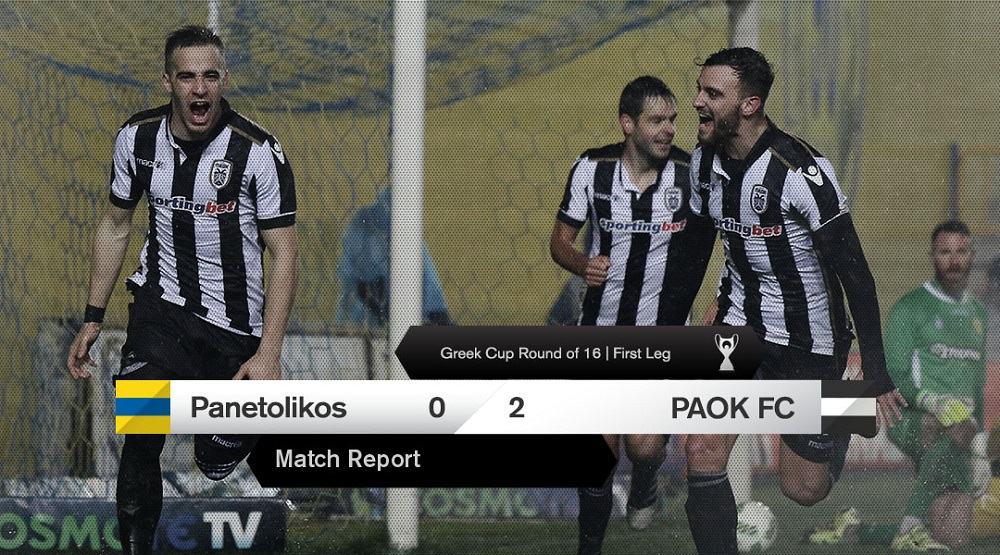 PAOK take first step towards qualifying
The pitch was close to unplayable and the weather conditions adverse. However PAOK survived and got the upper hand in their Greek Cup tie against Panetolikos after their 2-0 win in Agrinio.
The "Two-Headed Eagle" recorded an ultimately comfortable 2-0 victory over Panetolikos that brings them closer to qualification for the Greek Cup quarterfinals. The match was marked by PAOK's changed tactics, the reappearance of Ergys Kaçe and Stefanos Athanasiadis getting on the scorers sheet again.
Vladan Ivić's troops started into the match with all systems go, in search of an early goal. Efthymis Koulouris squandered a huge opportunity for the opener just seconds after kick-off, with only Kyriakidis to beat.
The black-and-whites were in control of proceedings, however there was the added difficulty of the water-logged pitch for both sides.
Yevhen Shakhov (11') and Koulouris (15') misplaced their headers, as PAOK failed to make the most of the seven corners they were awarded in the first half hour.
After the interval, Shakhov was teed up by Gojko Cimirot but his header flew wide in the 53rd minute. Five minutes later, Giannis Mystakidis drew a save from Kyriakidis with an impressive effort from the left.
Stelios Kitsiou broke the deadlock in the 77th minute with a powerful shot from the 6-year box, taking advantage of Marin Leovac's cross that bounced on the ground startling the home defence.
Seven minutes later, PAOK cemented their win with a spot kick, earned by Mystakidis and converted by Athanasiadis, and held on to their victory in the "lake" of Panetolikos ground.
Line-ups:
Panetolikos: Κyriakidis, Τsokanis, Chantakias, Rodrigues, Mygas (87' Mihaj), Μakos, Κoutromanos, Rocha (71' Clésio), Marcos Paulo (76' Papoutsogiannopoulos), Muñoz, Markovski.
PΑΟΚ: Glykos, Varela, Μalezas, Crespo, Κitsiou, Leovac, Shakhov, Cimirot (89' Cañas), Pelkas (63' Κace), Μystakidis, Κoulouris (46' Αthanasiadis).