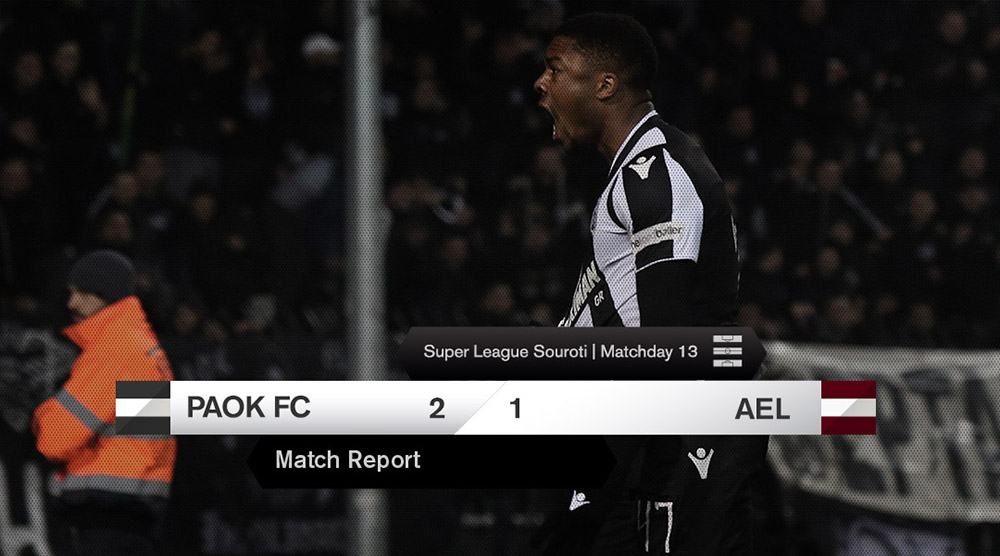 PAOK encountered solutions to turn the game around
One would expect that Olympiakos's draw at Xanthi earlier in the day would add pressure to Răzvan Lucescu's troops. On the contrary though, it boosted them and they became even more determined to land the three-pointer and increase their distance to 8 points from the Piraeus outfit.
From minute one, PAOK claimed possession and tried to find a way through AEL's thick defensive lines. Amr Warda on two occasions and Maurício on three created the most noteworthy opportunities to score, but couldn't go past excellent Kristinsson.
Against the run of play, AEL took the lead in the 36th minute, with the first opportunity they got. Nunić headed home the ball, teed up by Karanikas.
PAOK applied more pressure and managed to equalize before the interval. Aleksandar Prijović controlled Maurício's outstanding cross with his chest and Karanikas brought him down. Referee Kostanis pointed to the spot and showed Larissa's player his second caution of the day. The Serbian striker of the "Double-Headed Eagle" converted the penalty and made it 1-1.
The outlook of the encounter remained unchanged during the second half, with PAOK enjoying overwhelming possession and AEL just trying to fend off their hosts's relentless attacks.
However the finishing of Lucescu's players was sloppy and Kristenssen saved his side time and again. The Romanian tactician came up with the solution eventually, sending Yevhen Shakhov and Chuba Akpom on the pitch in the 66th minute. Four minutes later, the Ukrainian midfielder set up the opportunity and the Englishman scored to complete PAOK's comeback.
In the 71st minute, Maurício was denied again by Kristenssen, who intervened also in the 85th minute, to stop Léo Jabá .
The "Double-Headed Eagle" secured an important victory, have a 7-point lead over second-placed Atromitos, while Olympiakos are 8 points behind, with two matches to go until the end of the first round of league fixtures.
Line-ups:
PΑΟΚ: Paschalakis , Matos , Varela , Crespo , Vieirinha , Wernbloom (66' Shakhov ), Maurício , Limnios (81' Jabá ), El Kaddouri (66' Akpom ), Warda , Prijović .
ΑΕL FC: Kristinsson, Karanikas, Žižić, Gojković, Hubchev, Andoni, Milosavljević, Deletić, Acosta (86' Piti), Nunić, Bargan (46' Golias).