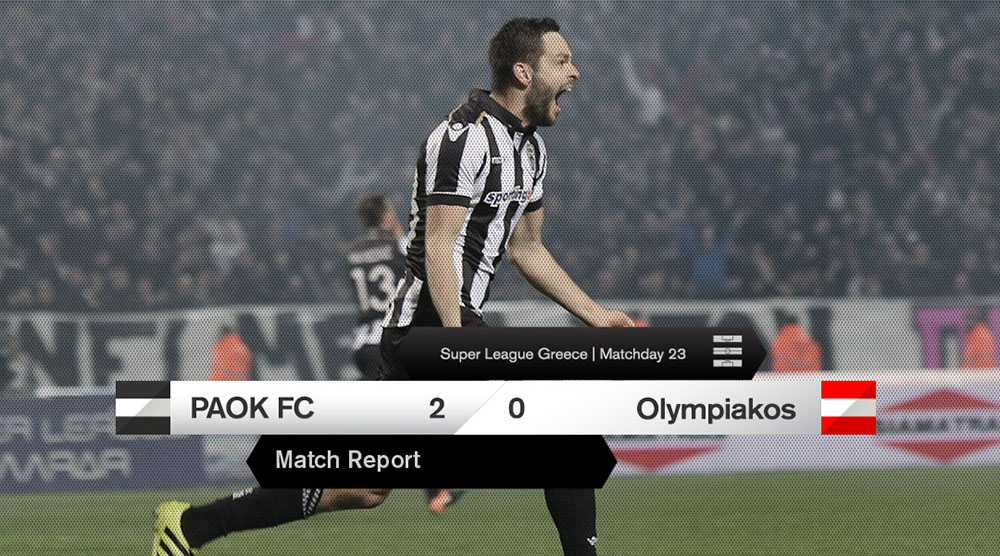 Victory sealed in seven minutes
PAOK dominated proceedings and recorded a 2-0 win of substance and prestige over Olympiacos for matchday 23 of the Super League.
The "Double-Headed Eagle" put on a much improved display, especially in the second half, and managed to overcome two forced substitutions and record their 30th home victory at the expense of the Piraeus outfit.
PAOK's tentative start into the game gave visitors the opportunity to approach Panagiotis Glykos's box, without making something out of it though.
After the first 15 minutes, the "black-and-whites" gained metres on the pitch launching numerous attacks on Olympiacos's goal, but their finishing was weak.
Their first attempt on goal was recorded in the 27th minute, when Pedro Henrique's side shot was blocked by Leali.
Djalma Campos came closer to scoring eight minutes later. After stealing the ball from Retsos, he charged down from the flank but his shot flew wide.
As the first half progressed, PAOK were seeing much more of the ball. In the 38th minute, Fernando Varela fired his header just past the post.
One minute later, it was Amr Warda who took the free-kick and Aleksandar Prijović connected the header. However, neither Léo Matos nor Pedro Henrique managed to poke the ball into the net.
Right after the interval, Pedro Henrique went for a spectacular overhead scissors' kick, but his effort was weak and easily blocked by Leali.
The goalkeeper of Olympiacos however was beaten in the 53rd minute. He could only knock a first-time headed effort from Stelios Malezas into the path of Yevhen Shakhov, who broke the deadlock with a powerful close-range volley.
Seven minutes later, PAOK sealed their superiority with a second goal. Aleksandar Prijović coolly dispatched the ball from close up, following a genius pass by Gojko Cimirot to Pedro Henrique and the latter's cross from the left.
Buoyed by that 2-0 lead and despite conceding space to the visitors, PAOK came tantalizingly close to a third goal in the final stages of the encounter with a stunning shot by Amr Warda, but Leali somehow got across to fingertip the ball onto his crossbar.
The final whistle signalled PAOK's return to their winning ways much to the delight of packed Toumba.
Line-ups:
PΑΟΚ: Glykos, Μatos, Varela, Μalezas (77' Leovac), Crespo, Shakhov, Cimirot, Campos (73' Kaçe), Warda, Henrique (65' Μystakidis), Prijović.
Olympiacos: Leali, Cissokho, Retsos, Botía, Figueiras, Androutsos (63' Μartins), Romao, Sebá, Fortounis, Elyounoussi (67' Manthatis), Ansarifard (79' Cardozo).