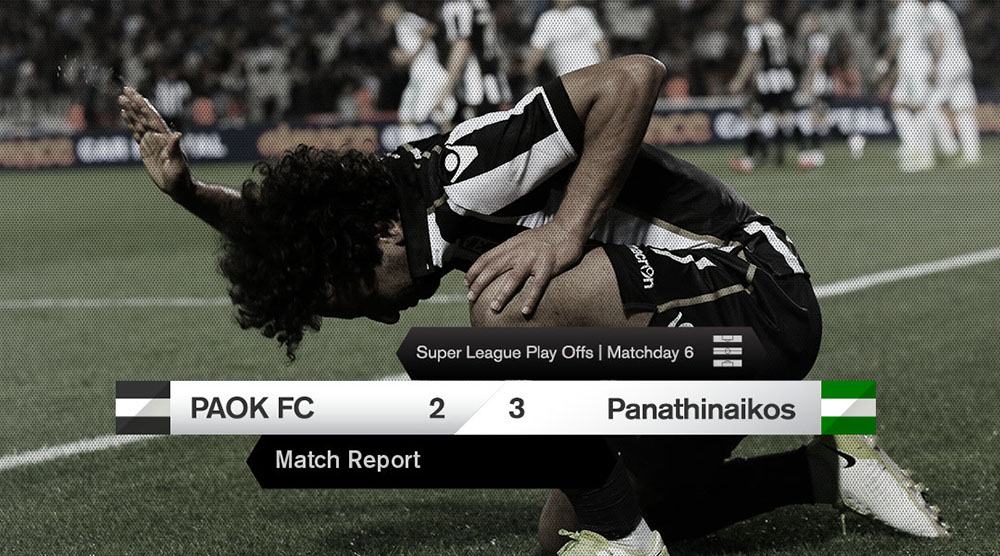 PAOK finished second in the Super League play-offs, after their 3-2 loss to Panathinaikos in Toumba Stadium.
PAOK twice failed to hold on to their lead and were punished for it. They missed out on the UEFA Champions League qualifiers and will participate in the UEFA Europa League 3rd qualifying round instead.
Despite their tentative start, the team picked up their rhythm and recorded their first good chance to score in the 14th minute, when Vlachodimos got to intercept the cross of Marin Leovac before it reached Aleksandar Prijović.
PAOK brought the match exactly where they wanted it in the 20th minute, taking the lead with an astonishing goal by Diego Biseswar. The Dutch attacking midfielder connected a powerful long-range volley to beat Vlachodimos and the whole squad dedicated the goal to Dimitris Chatziisaias!
It proved short-lived though, as Klonaridis equalized for Panathinaikos eight minutes later. He broke free behind PAOK's defenders and beat Željko Brkić with a cool finish.
The "Double-Headed Eagle" were affected by Panathinaikos's quick reply and couldn't react until the interval.
In the second half, PAOK came close to regaining their lead in the 56th minute, but were denied once again by the woodwork. Amr Warda and Pedro Henrique combined, the former setting up the latter with a perfect through-ball, but the Brazilian's side shot struck the left post.
But a PAOK goal was on the cards. In the 68th minute, Henrique tried his luck again and was vindicated. He took advantage of Koutroubis's blunder, stole the ball, dribbled the goalkeeper and coolly dispatched the ball for a 2-1 lead.
But the match was far from over. PAOK were punished in the 79th minute, with the first chance Panathinaikos got in the second half, a close-range shot by Lod making it 2-2.
A header by Efthymis Koulouris in the 89th minute flew wide.
Panathinaikos froze Toumba Stadium in stoppage time, Molins handing PAOK the final blow and sealing the Greens' 3-2 victory.
Line-ups:
PΑΟΚ: Brkić, Kitsiou, Crespo, Pouggouras, Leovac, Shakhov, Cimirot, Biseswar, Henrique (77' Cañas), Warda (88' Charisis), Prijović (67' Koulouris).
Panathinaikos: Vlachodimos, Hult, Koutroubis, Kourbelis, Coulibaly (43' Evangelou), Reis (49' Chatzigiovanis), Marinakis, Villafáñez (88' Pispas), Lod, Klonaridis, Molins.