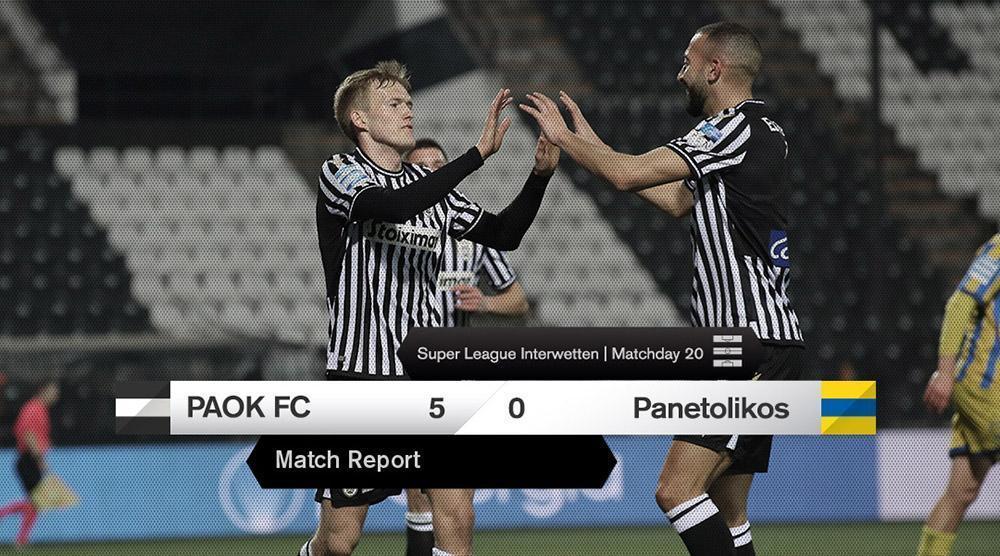 PAOK blow off steam with five goals
When a team is playing well and the results aren't going their way, usually just around the corner an opposing team will feel the full force of that pent-up frustration. And that's how things played out on Sunday (31.01) at the Toumba, with Panetolikos the unlucky team on the receiving end of a 5-0 hammering as PAOK returned to winning ways in the Super League Interwetten.
If you had turned off the television at half-time, you would not have believed that the match would end 5-0. Panetolikos set themselves up exceptionally well and for 40 minutes managed to hold PAOK at bay and made life difficult for the Double-headed Eagle.
A goal from Thomas Murg, however, just before half-time, plus a rampant opening 15 minutes to the second half was enough for the home side to kill off the game.
Their opponents from Agrinio came to the Toumba to try and look PAOK in the eyes and take what they could get. And for around half an hour the visitors did not allow the Dpouble-headed Eagle to threaten. Scoring chances were at a premium, with Knett saving a shot from Karol Swiderski after 25 minutes from a good position.
In the 39th minute, though, enter Murg to provide the solution. The Austrian got in behind the home defender and took control of the ball to set off towards goal. He surged into the penalty area and produced a slick dribble to make space for himself before sending a precise shot into the back of the net to make it 1-0.
PAOK started the second half in determined mood, looking to kill off the match as quickly as possible. And the second goal came in the 51st minute. PAOK's other Austrian, Stefan Schwab , latched on to a superb cross from Rodrigo and made it 2-0 with a bullet header.
In the 57th minute it was Christos Tzolis' turn to get on the scoresheet. The architect of the goal was Rodrigo , who sent over a precise low center for the Golden Boy to hit a first-time looping effort into the net for 3-0.
Then in the 61st minute Omar El Kaddouri intercepted possession just inside the visitors' half and set up Swiderski , who scored by rounding Knett to make it 3-0. From then on the tempo of the game dropped considerably as both coaches made a flurry of changes.
But PAOK were not finished scoring, with Swiderksi completed a superb footballing display from the home side by sweeping in his second of the night and the home side's fifth goal to make it 5-0.
Team lineups:
PAOK: Zivkocvic, Ridrigo, Ingason , Varela , Pereira , Augusto (46' El Kaddouri ), Schwab , Murg , Α.Ζivkovic (65' Warda ), Tzolis (65' Lamprou ), Swiderski .
Panetolikos: Knett, Tzanakakis, Malis, Cocalic, Pereyra, Tahar (62' Liavas, 75' Dalcio), Arzura (62' Mazurek), Barbosa (67' Manthatis), Tsiggaras, Ariyiby, Diaz (66' Vergos).