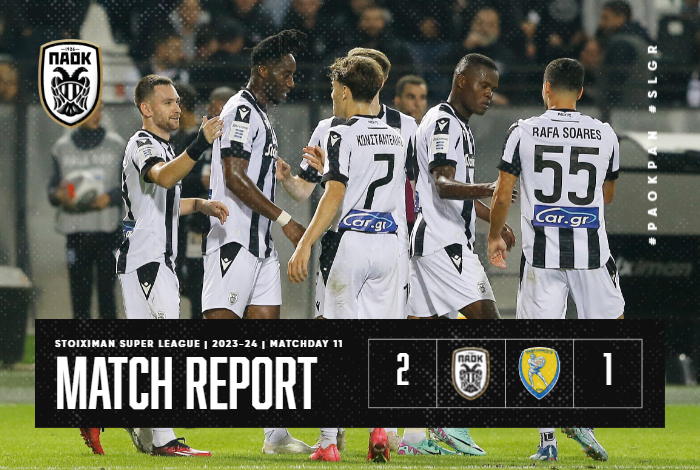 PAOK fought back from a goal down to overcome Panetolikos 2-1 at Toumba Stadium to wrap up what has been a difficult series of matches before the latest international break.
PAOK lined up in without the suspended Taison and Baba , but still willing to impose their pace on the game from the first minute. The first good scoring chance didn't take long to arrive with Sastre sending over a cross for Samatta in the second minute, but the PAOK forward failed to convert with a header.
In the 14th minute, Ozdoev aimed a direct free-kick from an excellent position goalwards, but the ball hit Kapino's post. While PAOK dominated the pitch and had complete control, Panetolikos somehow managed to get their noses in front on a counter-attack with Torrejon scoring from close range in the 20th minute after Duarte's cross.
The goal did not affect Razvan Lucescu's team negatively, though. The Romanian coach's players kept a cool head, got the ball down and played to feet, producing some excellent combinations, and quickly managed to turn the situation around.
In the 26th minute, A.Zivkovic, Konstantelias, Sastre and Samatta all exchanged passes, with the Tanzanian forward scoring with an amazing backheel. Three minutes later Samatta found the back of the net again, but the goal was disallowed for borderline offside by Ozdoev .
The Double-headed Eagle continued to produce excellent football and in the 36th minute it was Andrija Zivkovic's turn to shine. The Serb, with an incredible lob from distance, managed to beat Kapinos and make it 2-1, and that was that for the scoring.
In the second half, the tempo of the match dropped noticeably. PAOK continued to have possession of the ball, with the visitors looking to find a goal on the counter-attack. The two coaches made their moves from the dugout, the home side continued to press, but there were bno serious goal threats up until the final whistle.
Team lineups:
PAOK: Kotarski, Sastre, Kedziora, Michailidis, Rafa Soares, Ozdoev (Schwab 76′), Meite, A.Zivkovic (Vieirinha 90′), Konstantelias, Murg (Despodov 64′), Samatta (Brandon 76′),
Panaitolikos: Kapino, Malis (Oikonomou 60′), Duarte, Mladen, Liavas (Maurias 46′), Peres, Hatzitheodoridis (Dias 73′), Torrejon, Sengelia, Pedro (Xenitidis 73′),