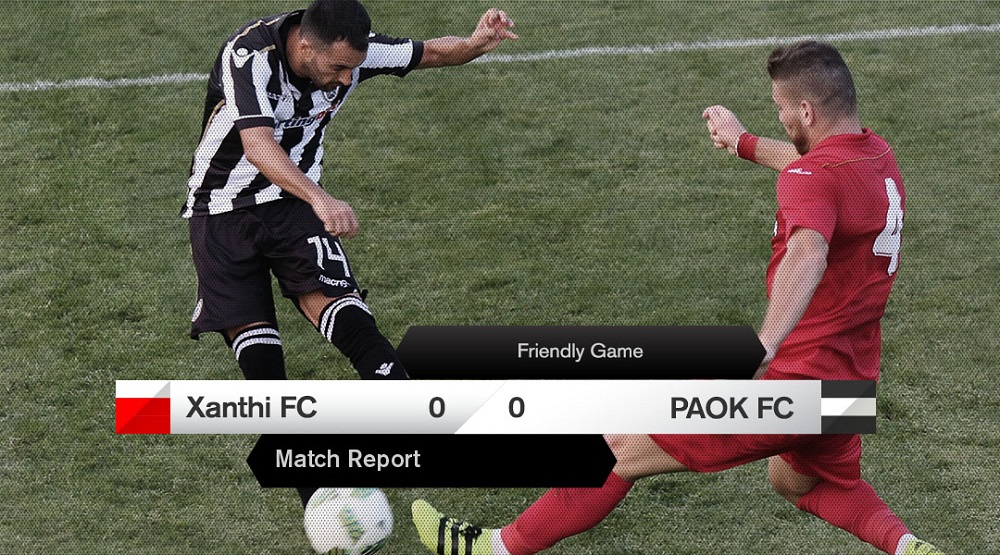 New faces, same philosophy
Having a large roster means many alternatives. It's tough to keep all players on their toes and ready to help the team at any moment. That is the reason behind the friendly encounter against Xanthi (0-0). So that Vladan Ivić would give playing time to those who didn't feature in Tbilisi.
Meanwhile, the head coach of PAOK tried a different system in midfield, with Dimitris Pelkas alongside José Alberto Cañas andDiego Biseswar in front of them in a 4-2-3-1 formation. For yet another match, PAOK displayed an unwavering playing philosophy regardless of the players used. In the first and second half (despite the substitutions), the "Double-Headed Eagle" demonstrated that they are following a specific plan.
In the first 45 minutes, PAOK displayed good, fast but not hasty passing game, they were patient in their deployment, they were in control and created chances to score, but they were denied by Živković.
The goalkeeper of Xanthi first produced a spectacular double save to stop Giannis Mystakidis and Biseswar and then pushed away a shot from point-blank range by Facundo Pereyra following a fine individual effort of Dimitris Giannoulis. Fernando Varela scored with a header following a free-kick by Pereyra, but the goal was disallowed on the offside rule. Xanthi became dangerous in the last five minutes of the first half, with shots by Baxevanidis and Nieto, both denied by impressive Željko Brkić.
After the interval, the home side changed all 11 players introducing their ideal line-up and immediately improved. PAOK on the other hand made several substitutions, giving playing time to U20 youngsters. Brkić was in fine form and kept a clean sheet by stopping all four dangerous situations created by Xanthi. In the other end of the pitch, Jairo was PAOK's most dangerous player.
PΑΟΚ: Brkić, Giannoulis, Malezas (75' Pougouras), Varela, Kitsiou, Cañas (46' Korovesis), Pelkas (75' Kyrilidis), Biseswar (73' Deligiannidis), Mystakidis, Jairo (75' Mattheou), Pereyra (61' Koulouris)