paokfc.gr/News/
U17s vie for second consecutive league title
U17s vie for second consecutive league title
A generation of charismatic players is aiming to defend their U17 league title. PAOK are once again contenders for the championship. If they prevail, they will top the charts with 3 titles, ahead of Olympiacos' 2 and Panathinaikos, Aris and Xanthi who won the league once each.
16.05.2017
Born in 2000 and 2001, the youngsters of the "Double-Headed Eagle" participate in a final for the third time. They already conquered the Super League U15 title in 2015 and the title of 2016 with the U17s –although many are born 2001, they were part of the U17 group since last season.
PAOK will face Olympiacos in the Final Four semi-final on Thursday 18 May at 20:00 in "Theodoros Kolokotronis" ground of Tripolis. The first semi-final, between Asteras Tripolis and Xanthi, will kick-off earlier that day, at 17:00. The final is scheduled for Saturday 20 May at 19:30.
The "Double-Headed Eagle" finished first in Group B of the regular season with 68 points, leaving Xanthi in second place with 64. PAOK recorded 22 victories, 2 draws and suffered 4 defeats, scoring 81 goals and conceding 18.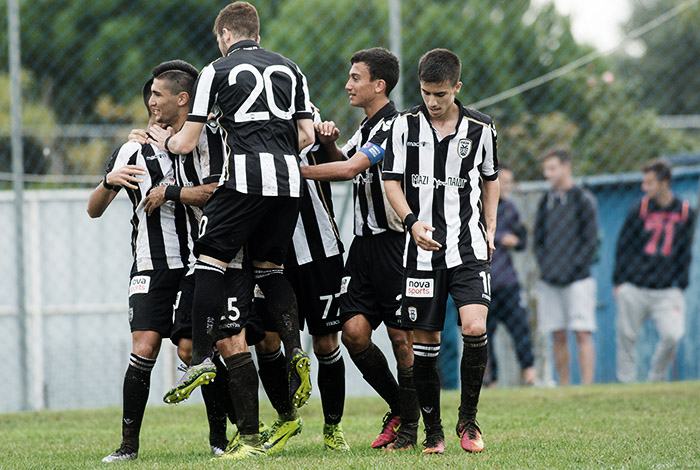 In the first group, Asteras Tripolis topped the charts with 58 points, leaving Olympiacos behind.
The list of PAOK scorers reads as follows: Gargalatzidis 17 goals, Gaitanidis 16, Doumtsis 12, Vrakas 10, Chatzis 7, Lyratzis 4 and Kyrtsos 3. Tsaousis, Tsiggaras and Moutzouris have scored twice each, while Azizi, Kaloutsikidis, Diamantis, Michailidis, Salamouras and Pournaras have contributed one goal each.
Dimitris Voutsas has spent more minutes on the pitch (2.289) than any of his team-mates. The rest of the list reads: Syllektis (2.070), Michailidis (1.915), Gaitanidis (1.887), Vrakas (1.741), Chatzis (1.677), Tsiggaras (1.665), Μaniotis (1.498), Diamantis (1.438), Salamouras (1.415), Georgiadis (1.393), Lyratzis (1.336), Gargalatzidis (1.320), Doumtsis (1.244).
Regarding assists, Gaitanidis tops the list with 10 to his name. Gargalatzidis and Doumtsis provided 7, Chatzis 6, Lyratzis and D.Voutsas 5 each, Tsiggaras and Vrakas 4 each and Salamouras served 3 assists.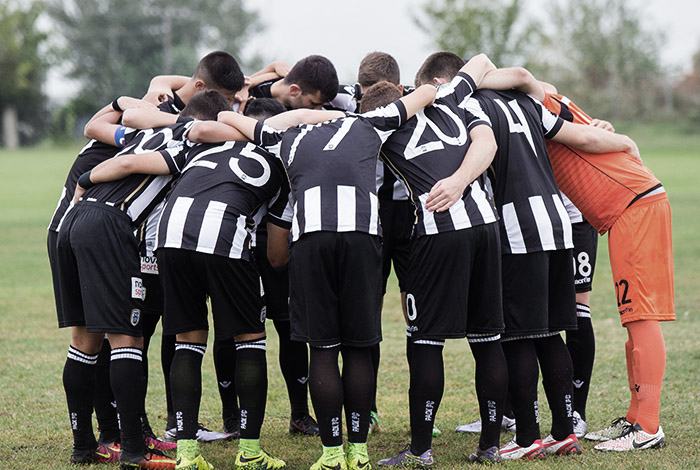 The U17 squad of PAOK for 2016-17 consists of:
Goalkeepers: Evangelos Syllektis, Christos Talichmanidis, Athanasios Batalamas, Ilias Kazoulidis, Christos Giannakidis
Defenders: Dimitrios Voutsas, Christos Voutsas, Marios Tsaousis, Eleftherios Lyratzis, Christos Stoinovic, Angelos Moutzouris, Efstathios Tachatos, Theodoros Goutziouridis, Georgios Georgiadis, Christos Macheridis
Midfielders: Spyridon Atmatzidis, Evangelos Kyrtsos, Theocharis Tsiggaras, Georgios Doumtsis, Konstantinos Boumpas, Nikolaos Chatzis, Dimitrios Xyfilinos, Theodoros Pournaras, Serafim Maniotis, Georgios Vrakas, Dimitrios Theodoridis, Apostolos Diamantis, Ioannis Michailidis, Achilleas Salamouras
Forwards: Alexandros Gargalatzidis, Anestis Provatidis, Antonios Gaitanidis, Anastasios Batalamas, Charalampos Topal, Nektarios Azizi, Petros Kaloutsikidis, Kimon Koreas
The 23-man squad of PAOK for the Super League U17 Final Four consists of:
Evangelos Syllektis, Dimitrios Voutsas, Eleftherios Lyratzis, Christos Talichmanidis, Ioannis Michailidis, Apostolos Diamantis, Serafim Maniotis, Christos Voutsas, Nikolaos Chatzis, Achilleas Salamouras, Theocharis Tsiggaras, Alexandros Gargalatzidis, Georgios Doumtsis, Antonios Gaitanidis, Georgios Vrakas, Angelos Moutzouris, Nektarios Azizi, Evangelos Kyrtsos, Georgios Georgiadis, Kimon Koreas, Marios Tsaousis, Theodoros Pournaras, Dimitrios Xyfilinos.
Vasilis Mittas, Petros Tsiapakidis and Anestis Aslanidis are the team's coaches. Dimitris Kryonas is their goalkeeping coach, Giannis Ousantzopoulos their doctor, Konstantinos Michailidis their physiotherapist and Stratos Arizanis the kitman.
PAOK U17s left on Tuesday from Makedonia Airport. Browse paokfc.gr's exclusive photography from their departure.