paokfc.gr/First Team/
Koulierakis: Man material
Koulierakis: Man material
We've always had plenty of reasons to talk about Konstantinos Koulierakis. Perhaps the humility that makes him stand out, and the minimum visibility that as a basic principle we give to "our little ones", forced us to wait.
22.09.2022
Of course, his rapid development beat us to it. Yes, from a young age, he is already a man, moving from three appearances with Greece's Under-19 team to the full senior squad. Those are difficult steps to take, but as it turns out, it can be done.
On the day Gustavo Poyet called up the young PAOK defender to the Greek national team for the upcoming UEFA Nations League games, Konstantinos was 18 years, nine months and 22 days old, thus the second youngest player in PAOK's history to be called up to the Greece squad, after Christos Tzolis (when Christos was called upon he was 18 years, eight months and seven days old). A few days earlier, Koulierakis was preparing to travel to Poland with the Under-21 team for his first appearance.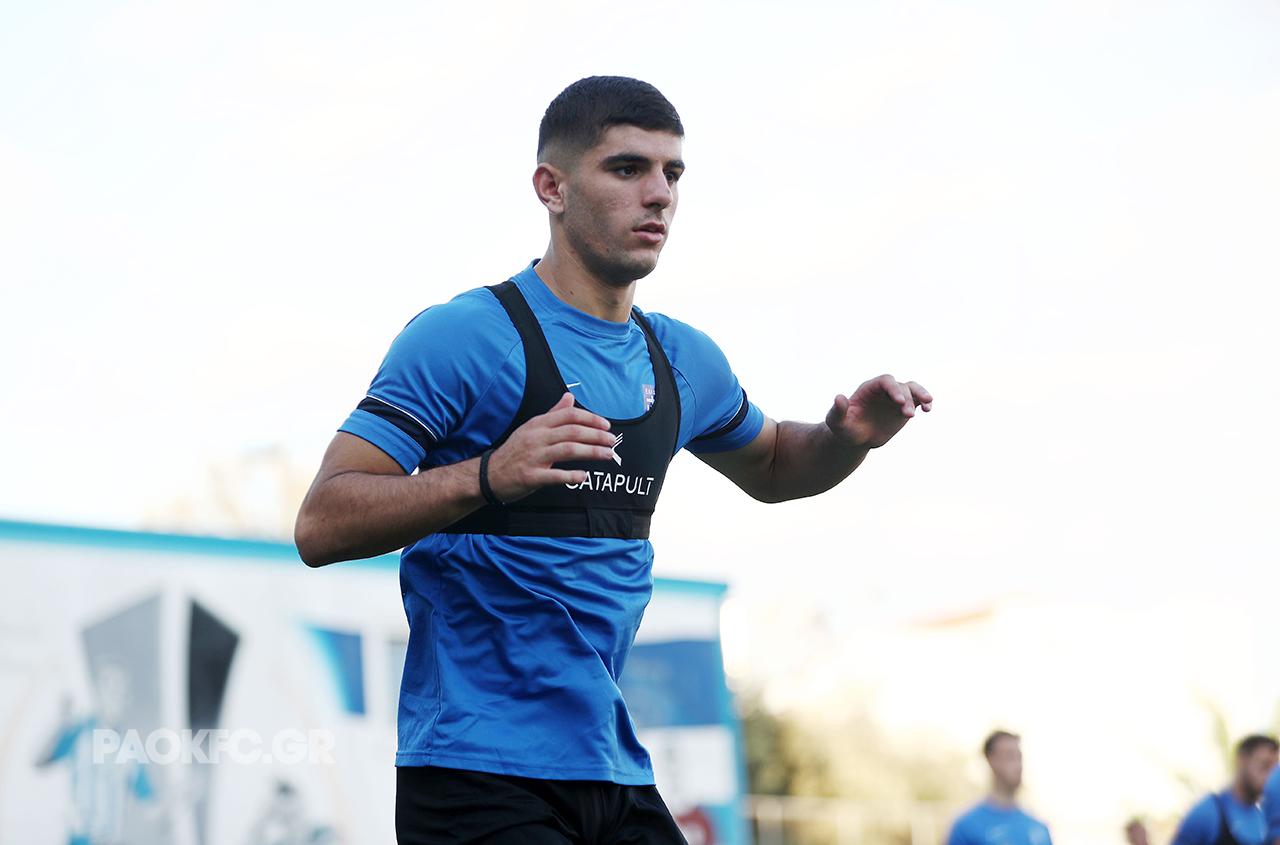 Konstantinos received the surprise phone call about the change of plans and the move from Under-21 to the senior men's side half an hour before he was due at the team hotel for the Under-21s. «Sudden and great», he characterizes it. «Although it had crossed my mind – as it wasn't completely unexpected – maybe deep down I expected it,» he adds in a disarming display of self-control. It was obviously a mix of emotions, but he faced it with the same composure that he has shown so far in all his five appearances in the championship. Only once, after all, has he let his emotions get the better of him. That was when he hugged Kotarski for the penalty save by PAOK's Croatian goalkeeper after he had given away the spot-kick. Fair enough…
Konstantinos Koulierakis is another wonder kid of PAOK and Greek football. We no longer want, nor can we try to keep him in the shadows, perhaps fearing that he will be dazzled. A kid who came to the PAOK Academy in 2017 from Chania to be happy already being a key central defender for PAOK and a member of the Greece national team, has so far proven that there, in the light, is his natural space. Here is his life story, then.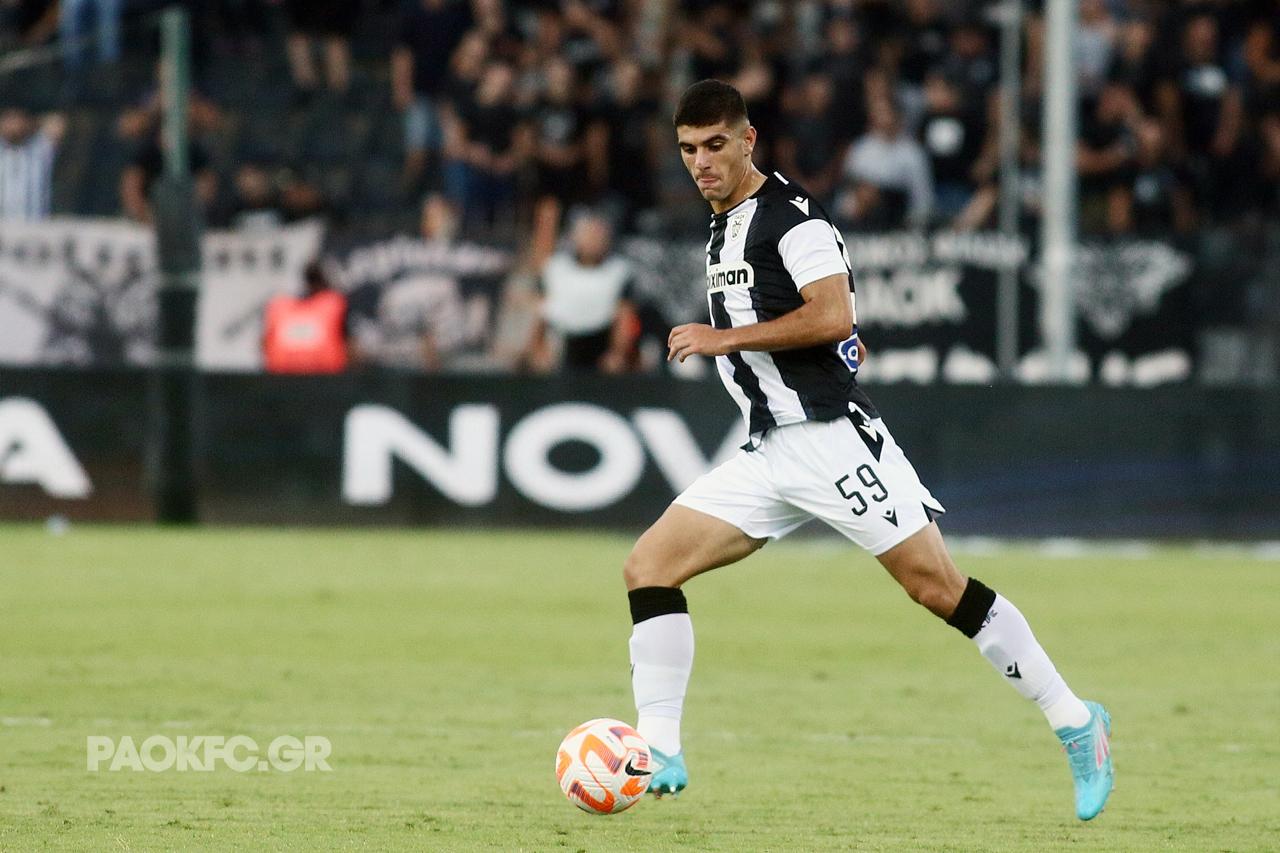 Three times an appointment was made, and three times the meeting was not possible. Then, on Wednesday, May 4, 2017, he finally traveled to Thessaloniki to be evaluated by the PAOK Academy coaches. The impression made was positive… From disappointment to euphoria involves several kilometers of asphalt. From Chania to Thessaloniki. From Under-15, Under-17, Under-19 and PAOK B, to a starter for PAOK's first team before even turning 19, and with a contract that was immediately extended until December 2025. Konstantinos Koulierakis is living his dream. And he dreams big…
His mum was not too keen on him playing football, because she was afraid, so she also sent him to play tennis, and to the swimming pool, «but something always happened and as if by magic, without consciously seeking it, I didn't go,» says Konstantinos. His dad, an amateur footballer, finally gave in and took him to the Doxa Calcetto academy before he turned five.
Initially, Koulierakis was an attacking midfielder, but at the PAOK Academy at the age of 14 he switched to the defensive midfielder position and as a Under-17 player in the 2018-19 season he became a central defender. In retrospect, obviously and as a result, he admits that he likes the position of central defender. «I feel there that I am in control, that the responsibility is purely mine and that a mistake of mine is always more likely to be fatal.» He considers his asset to be his good left foot, and a disadvantage – if of course it can be perceived as a disadvantage – is the great confidence he displays. «I have to check my confidence, to make sure I use it correctly,» he emphasizes with disarming innocence, and at the same time enviable maturity.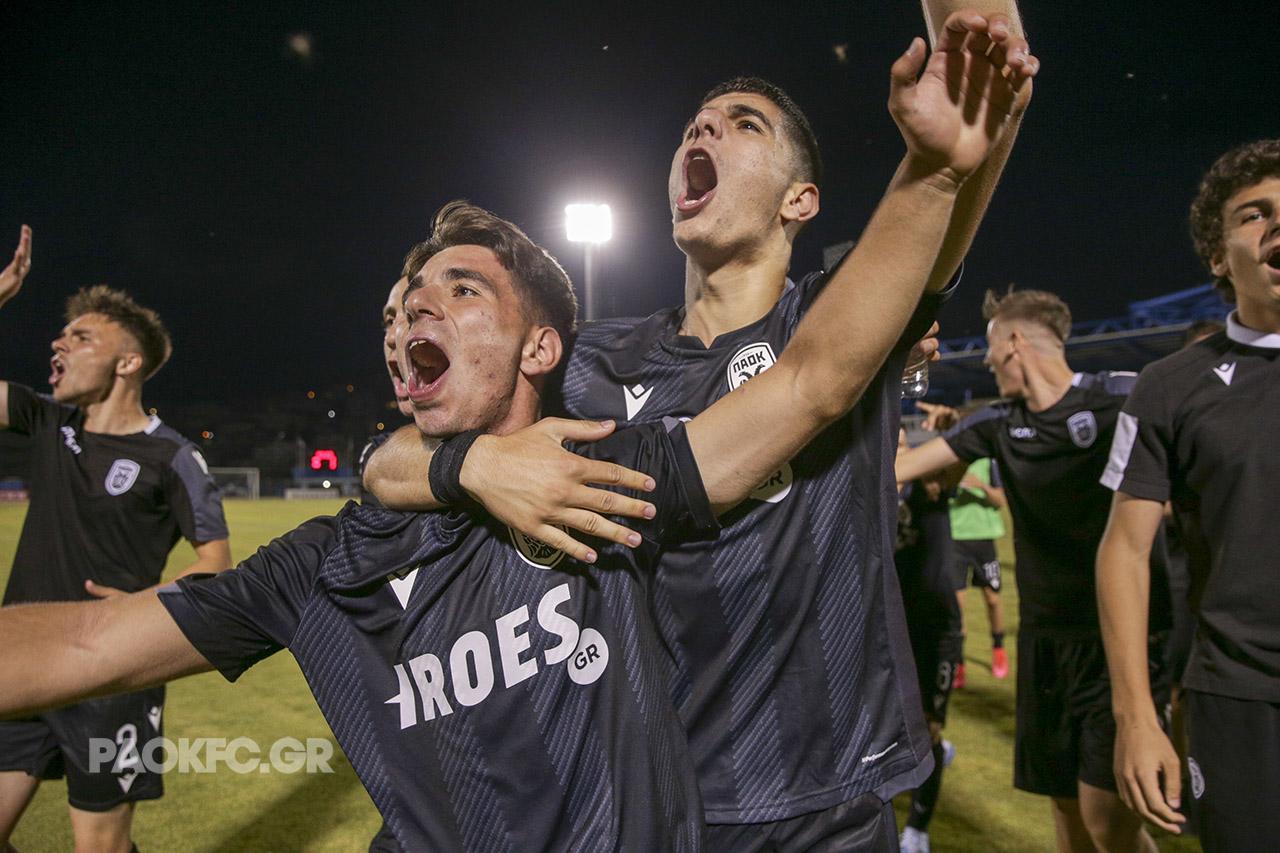 His priority has always been football; he does not feel that he was deprived of anything by playing sports, and he admits that he neglected school – something that he does not recommend to any child of course – and that he might enter the process of taking the Panhellenic exams at some point. If not football, what else? «In any case, it would be something related to sports,» he clarifies.
After all, when asked to be his own psychoanalyst, he speaks of dynamism, of a child who always focuses on the positive things, who does not allow himself to be overwhelmed by something negative happening, and who always keeps in mind that «if you think negatively, negative things will they happen to you.» He doesn't have a specific plan in mind, never has. But he knows for sure that he really wants to win a trophy with PAOK.
In 2017, when he left his house in Chania, he settled in the PAOK Academy House, where he lived for three years. He never felt, as he says, alone, he acclimatized immediately and although he misses Chania, he is happy to live in a city by the sea. He describes living in hostels as a "big personal education", which taught him a lot about being consistent and getting to know and get along with many different characters.
Koulierakis is a champion with the Under-17s, a two-time champion with the Under-19 side, to which he was promoted very early on – at the same time he often participated in the first team's training sessions – he has been a youth international since the Under-15s. One of his complaints is that with the Under-16 Greece team, while they claimed an important qualification to the Elite Round, the event was never held due to coronavirus.
What does he remember vividly? His first goal with the Under-15s, the triumph in the Sweden Invitational Cup tournament at Under-15 level in his first year at PAOK (for the record, the MVP of that competition was Giannis Konstantelias), the penalty he missed in the final of the Under-17 championship in 2020, when PAOK was crowned champions against Olympiakos.
Growing up – and it seems that he grew up early – he says that the memory of the first time he wore the PAOK jersey (he was 16 years old in a friendly with Panathinaikos), and the magical night in Ghent in the «Round of 16» of the Europa Conference League will be indelible, as well as August 20, 2022. For obvious reasons…
At the age of 18 years and nine months, Razvan Lucescu handed Koulierakis, who had impressed him during pre-season, a starting betrth in central defense for a full 90 minutes in the first match of the 2022-23 season at the Toumba against Panetolikos. It's hard for him to describe it. Only the word «magic» keeps cropping up. But, on the contrary, he is clear that he was not anxious for a single moment. He just enjoyed it, as he emphasizes, from beginning to end. Even if his parents and little sister weren't there to make him proud. His dad was so anxious and worried that he preferred to stay in Chania and watch the game on TV…
When asked to describe the differences between each age group, he emphasizes that Under-19 has nothing to do with the challenge of playing for PAOK B and Super League 2, which taught him a lot in his first season there (2021-22). According to him, the differene is just as big moving up to the first team. «What's completely different here,» he says, «is the insistence on detail, every detail, at levels I hadn't imagined!» This is perhaps something that characterizes him, of course, if you consider that the first thing he always does after the game is to watch the video of the match and observe every detail…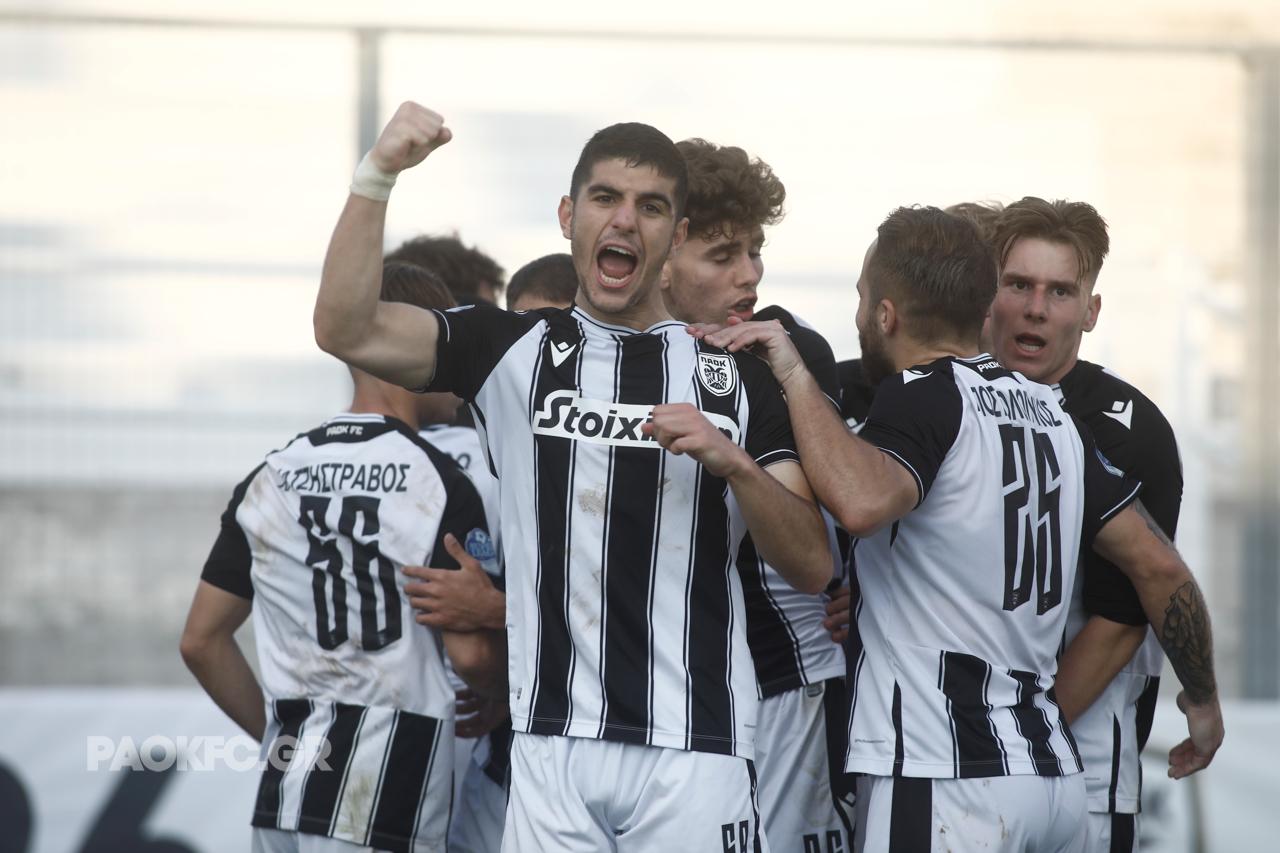 As for the only blunder in his football life, for which he was fined, he remembers that it happened when he was an Under-19 player under the coach of Stelios Malezas. It was a mistake involving his alarm clock, and he only had a quarter of an hour to be on the team bus for the match against Panathinaikos (3-3) in Souroti. The youngster managed to remember take a pair of boots with him, and because anything that can go wrong, will go wrong, after the first quarter of the game he rips one of his boots, and plays on with just a sock on one foot. At the break the only replacement boot he can find is two sizes larger. And of course, it's a different color. And so he plays out the rest of the game with one white and one black boot. A fact that did not prevent him, however, from scoring his first goal with the Under-19 side.
Concerning the players he admires, he singles out Ronaldinho and Leo Messi, while in another life he would like to have played alongside Paolo Maldini in defense.