paokfc.gr/News/
Παρόν και στο συνέδριο της Λισαβόνας το PAOK Academy
Παρόν και στο συνέδριο της Λισαβόνας το PAOK Academy
One understands the level at which the PAOK Academy is trained and operates from the interaction of its executives with the corresponding executives of great academies such as Ajax, Benfica, Inter Milan, Manchester United, and finally Sporting Lisbon. And it was at the latter's facilities that the coordinator coach of young ages, Giorgos Gourtsas, travelled to take part in the ECA conference.
27.12.2022
As mentioned, the host of the conference of the European Association of Clubs (ECA) was Sporting Lisbon, who welcomed representatives of 40 teams, including, among others, Ajax, PSV Eindhoven, Bayer Leverkusen, Inter, Dinamo Zagreb, Leicester, Lyon, and of course PAOK.
The main topic of discussion was the future of football through the proper organization and operation of clubs' infrastructure departments. Keynote speakers Hugo Viana (sporting director), João Couto (technical director of the academy), Diogo Teixeira (coordinator and technical director for Under-6 to Under-13), Paulo Noga (strategic director), Marco Santos (coordinator technical director), Francisco Tavares (coordinator fitness) and Barbara Claro (psychologist), covered a wide range of topics.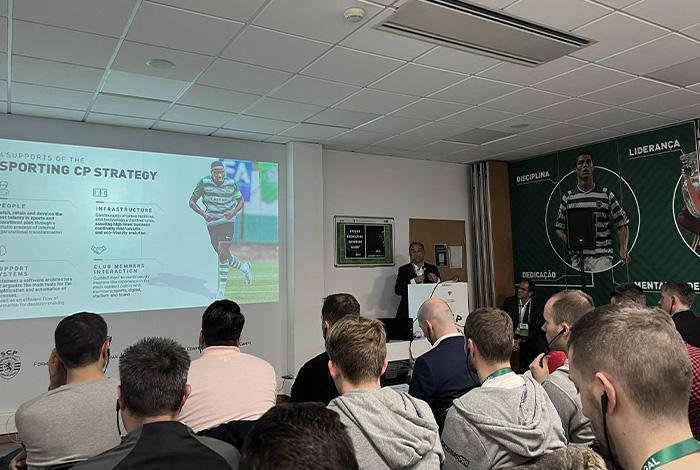 The complexity of the structure and organization of an academy always brings to the table extremely interesting topics for discussion, such as how to maximize performance, the methodology of the scouting department, how to correctly identify talent and also register players. The conference also analyzed the technical planning of the training sessions from Under-17 to Under-23 level, and the strategic plan of the Sporting academy. Clearly, the question of psychological support for youngsters, and how it is applied in the everyday life of the academy was also raised, as it is a critical subject in a time that is difficult and stressful in many ways for children and teenagers.
The guests had the opportunity to tour the facilities of the Sporting academy, as well as to watch the Portuguese Cup match against Maritimo.