paokfc.gr/News/
PAOK Academy boss in attendance at ECA scouting workshop
PAOK Academy boss in attendance at ECA scouting workshop
George Georgiadis, the PAOK Academy technical director, participated in a highly enlightening and constructive two-day conference run by the ECA (Federation of European Clubs) on scouting. The ECA member clubs met in Monaco, at the Louis II Stadium, on February 7th and 8th, hosted by Monaco, to exchange knowledge, experiences and know-how on the strategy of youth scouting.
16.02.2023
Football is constantly evolving and obviously the discussion and exchange of views with other European clubs is always an added advantage in the global reflection on the issue of identifying and promoting young football talent. For many different reasons, the desire of big clubs to create their own identity and connect with the fans, pushes them to focus more and more strongly than ever on their youth academies, where they train and develop young talents with the ultimate goal of course, to bring them through into their first team. It goes without saying that the scouting strategy has a dominant role in this process.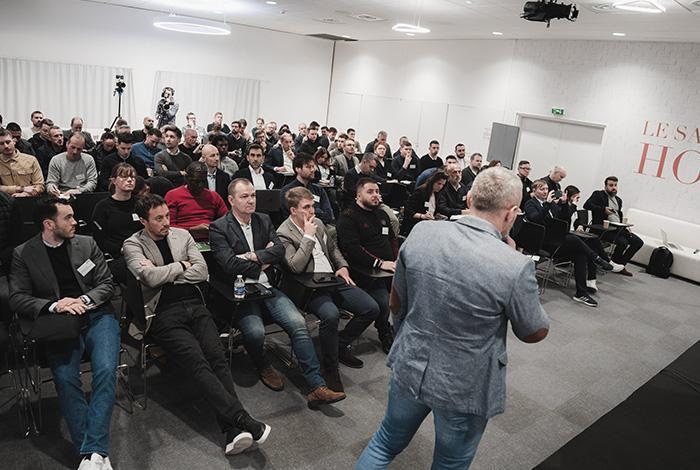 Directors and technical directors of academies, scouts and club experts from all over Europe participated in the two-day event. The participants took in seven presentations, among others by the managers of the corresponding departments of Monaco, Dinamo Zagreb, Nordsjaelland, related of course to youth scouting, their structure and strategy in this area. Among the speakers were Monaco academy director Pascal de Mescalc, Dinamo Zagreb academy director Tomislav Butina, Nordsjaelland scouting officer Mirhan Fasliu.
Special mention was also made on the ways of scouting young goalkeepers, while it is worth noting that the Rafael Nadal academy presented the way they apply scouting in tennis.