paokfc.gr/First Team/
League openers at Toumba: Facts & Figures
League openers at Toumba: Facts & Figures
PAOK's encounter against AEL Kalloni on Sunday marks the 35th time that they play at home on the opening day of the Greek league. In the previous 34 matches, they won 24 times, drew 7 and lost just three times. AEK Athens are their most frequent rival on the league's …
25.08.2014
PAOK's encounter against AEL Kalloni on Sunday marks the 35th time that they play at home on the opening day of the Greek league. In the previous 34 matches, they won 24 times, drew 7 and lost just three times.
AEK Athens are their most frequent rival on the league's opening days, having visited Toumba five times, with Kavala and Larissa trailing (3 visits each). Here is the list of PAOK's home rivals on a league kick-off:
5 ΑΕΚ
3 Kavala / Larissa
2 Egaleo / Olympiacos / Panathinaikos / Aris / Panachaiki / SKODA Xanthi
1 Megas Alexandros Katerini / Apollon Kalamaria / Iraklis / OFI / Omonia / Panionios / Doxa Drama / Kerkyra / Levadiakos / Panserraikos / Panthrakikos
When PAOK win, they mostly do so in style, with a three-goal margin: they have prevailed 4-1 six times and won 3-0 three times. Here is the list of PAOK' scorelines on opening days at home:
VICTORIES
6 times 4-1
4 times 1-0
3 times 3-0 / 3-1 / 3-2
2 times 2-1
1 time 6-2 / 2-0 / 4-0
DRAWS
3 times 1-1
2 times 2-2
1 time 4-4 / 0-0
DEFEATS
2 times 2-1
1 time 2-0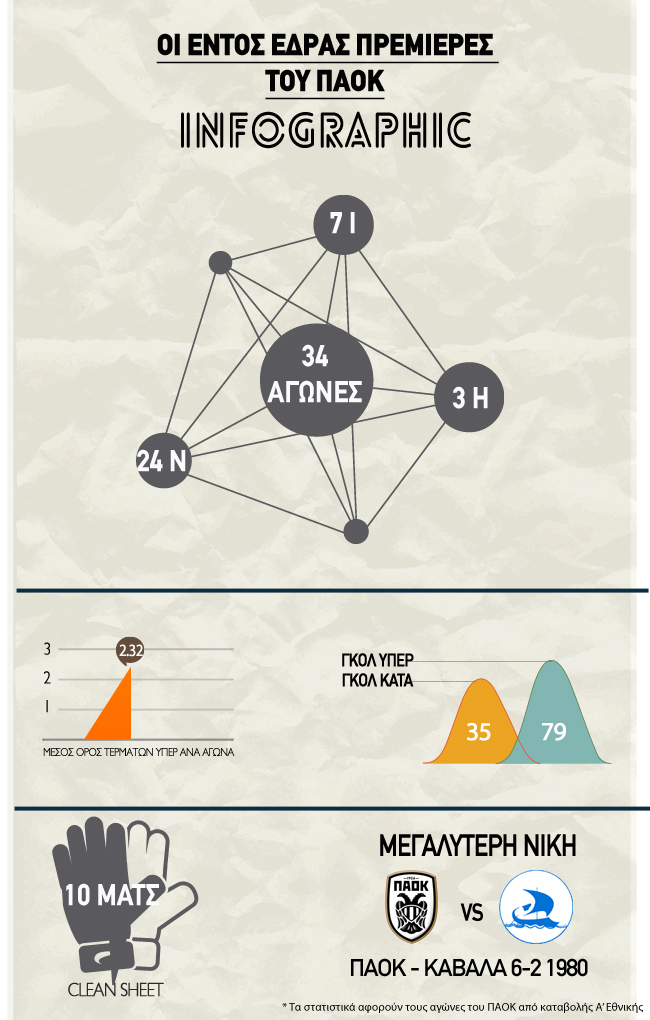 Against AEL Kalloni
# 2 matches have been played between PAOK and AEL Kalloni, as the Mytilini outfit made their top-flight debut only last season. Their maiden encounter corresponded to the 15th day of the Greek Super League in Nea Smyrni, one of the venues that AEL Kalloni used as home ground.
# 7 goals scored by PAOK in the afore-mentioned encounters against AEL Kalloni: five in the away 5-2 win and two in the Toumba match. Dimitris Salpingidis scored twice in Nea Smirni for PAOK, Emanuel Perone scored in both matches, as well as Zvonimir Vukić who netted twice.
# 9 matches for Efthymis Koulouris in the league, just one in the starting line-up. His only goal was scored against AEL Kalloni at Toumba, coming off the bench 22 minutes from time and handing PAOK victory in the 84th minute. The 18-year old striker has also scored twice in the Greek Cup, for a total of 3 goals in 11 official matches for PAOK.
# 10 consecutive seasons: PAOK were playing their opening encounter at Toumba from 1985-86 until 1994-95.