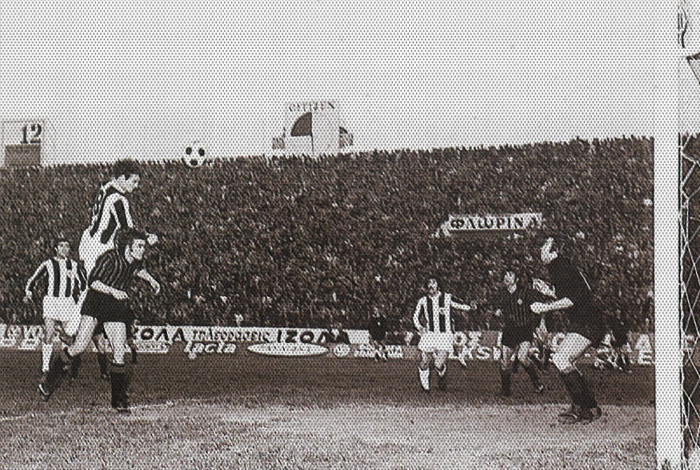 PAOK march to the quarter-finals
The Cup Winners' Cup may be extinct, but it remains a very important trophy for PAOK, as it is the competition where they recorded their finest European run to date. In 1973-74, the "Double-Headed Eagle" made it all the way to the quarter-finals. This feat becomes all the more significant, taking into account that PAOK had never before passed even a round since 1965, when they first appeared on the European stage.
The team of Les Shannon lined up series of impressive displays to overcome the hurdles of Legia Warszawa and then Olympique Lyonnais, before succumbing to mighty AC Milan, holders of the trophy and eventual finalists.
PAOK's fine journey began in Warsaw, with a 1-1 draw thanks to a goal by Terzanidis. Aslanidis' goal in Toumba earned the "Double-Headed Eagle" their maiden European qualification. Olympique Lyonnais were waiting in the second round. The encounters against the French were nothing short of spectacular. PAOK secured a 3-3 draw at "Stade de Gerland" and stormed to a 4-0 win at Toumba Stadium to make it to quarterfinals, courtesy of goals by Paridis (25', 61'), Aslanidis (37') and Terzanidis (79').
PAOK lost 3-0 at San Siro on 13 March 1074, but that didn't keep their fans from packing Toumba for the second leg. In front of a crowd of 43.882, the "Double-Headed Eagle" took the lead with a header by Sarafis following a fine combination by Terzanidis and Iosifidis. "Caesar" also netted PAOK's second goal of the evening in the final 2-2.
PAOK's last ever encounter in the Cup Winners' Cup, against Eintracht Frankfurt, was dramatic and would be decided after a penalty shootout. A brace by Giorgos Kostikos cancelled the Germans' victory in the first leg. However Christos Dimopoulos missed his spot kick and the "Double-Headed Eagle" were eliminated.
PAOK participated 6 times in the Cup Winners' Cup. In a total of 18 encounters, they recorded eight victories, five draws and were defeated five times (24 goals scored, 23 goals conceded).
Facts & Figures
Stavros Sarafis is PAOK's top scorer in the competition (5 goals). Achilleas Aslanidis, Christos Terzanidis and Dimitris Paridis trail with 3 goals netted each.
 The "Double-Headed Eagle" are undefeated at home in the Cup Winners' Cup. In nine encounters at Toumba, they celebrated seven victories and played two draws.
 Kostikos, Guerino, Gounaris and Siggas all were on target from the penalty spot against Eintracht Frankfurt. Christos Dimopoulos was the one to miss the deciding spot kick.