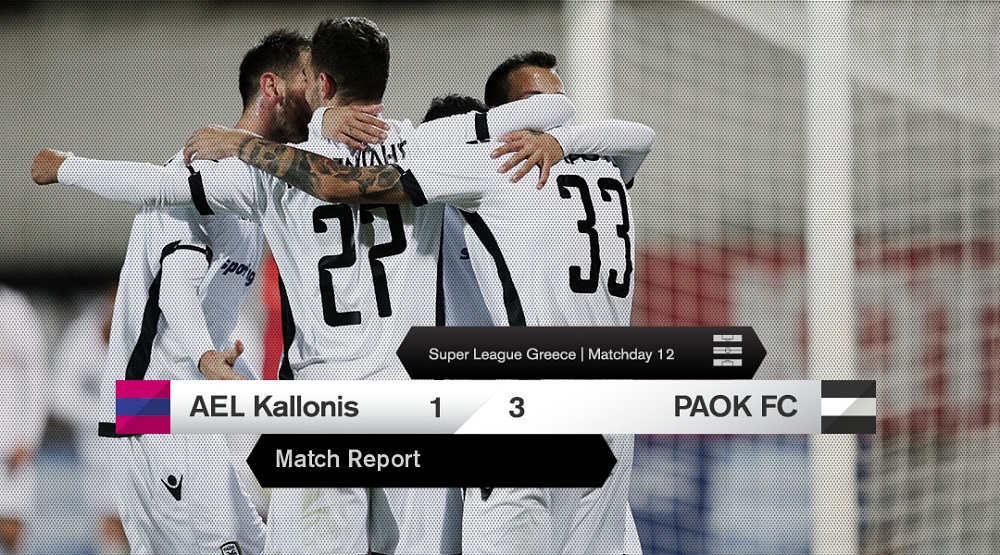 Three points and substance at Mytilini
"Football is weird. A team might dominate and lose, they might play badly and win". This quote of Igor Tudor was proven right at Kalloni. PAOK didn't play their best game, however their efficiency gave them a much-needed victory.
This victory was of the essence anyway, as it would absorb big part of the pressure sustained in recent weeks. And the release of that pressure was evident when the players celebrated the goals. First Stefanos Athanasiadis and then Giannis Mystakidis. Both of them rushed to embrace Igor Tudor. An instinctive, heartfelt move that silenced all those talking nonsense about dressing room crisis and… ballet.
As opposed to previous encounter, PAOK managed to take the lead with their first decent play. In the 7th minute, Garry Rodrigues charged from the right, crossed the ball towards Klaus who did what he knows best. Being in the right place at the right time, he scored from close range.
Boosted by their early opener, Tudor's players took control of the encounter and pressure AEL Kalloni until the 20th minute. However the home side gradually came out of their box and before the interval they leveled from the spot, thanks to a lucky penalty awarded to Manousos when Giannis Skondras fell.
In the second half, PAOK looked affected by the equalizer. Perhaps stress was also a factor. In the 57th minute, they avoided conceding a second one, when Alexandros Tziolis cleared Keita's shot off the line. AEL Kalloni kept pushing forward and PAOK weren't that lively on the attacking front.
The match complexion changed in the 76th minute. Róbert Mak entered the box and passed the ball to Klaus, who gave the "Double-Headed Eagle" the lead. That goal practically decided the encounter, as AEL Kalloni lost their vitality and PAOK recovered their self-confidence. A third goal would soon follow with Rodrigues creating play and Mystakidis beating Dafkos with a lobbed shot.
PAOK: Glykos, Τzavellas, Μalezas, Skondras, Leovac (59' Μystakidis), Rodrigues, Τziolis, Κace, Pelkas (65' Golasa), Μak (80' Κonstantinidis), Αthanasiadis
AEL Kalloni: Dafkos , Τsampouris, Adejo, Αnastasiadis, Llorente (85' Hintaseli), Κaltsas (89' Gioukaris), Κeita, Georgiou, Saba (80' Marković), Bargan, Μanousos
Referee: Delfakis
Yellow cards: Skondras, Leovac, Αthanasiadis, Golasa, Κonstantinidis
Red card: Keita