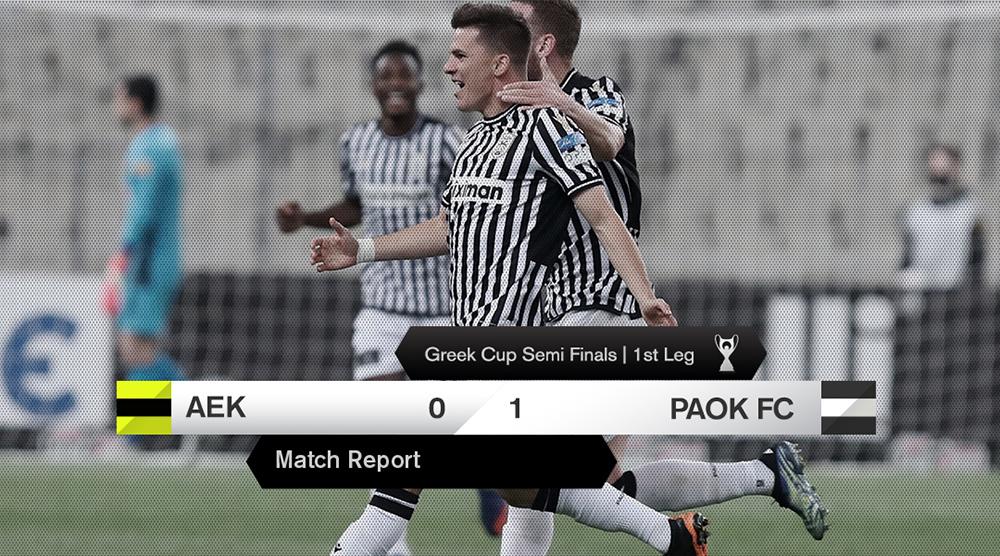 Advantage PAOK with a... buzzer beater
It could almost be the script for a film. Thomas Murg came off the bench three minutes before the end of the match. He only touched the ball a couple of times, but one of those touches decided the winner after a tough 94 minutes.
ΑΕΚ and PAOK lined up against each other at the OAKA with zero appetite to take any risks. Both teams were very cautious, the opportunities in the match were limited, and everything pointed to the match ending in a goalless draw. That was until Murg stepped up to change the story.
The PAOK coaching team did not make many changes compared with the previoius match against Panathinaikos at 'Leoforos', with Vieirinha, Krmencik, and Tzolis the three players replacing Rodrigo, Murg, and Swiderski.
Until the 26th minute, there were not significant chances, and the game was characterized by many mistakes and a flurry of fouls. Oliveira was denied by an excellent save by Paschalakis, while PAOK missed a good chance in the first half when Tzolis' shot was blocked by Tsintotas after 43 minutes.
In the second half the pattern of the game did not change. Both sides were focused mainly on keeping a clean sheet and not committing players forward, and thus had problems creating scoring chances.
In the 49th minute, PAOK came close to taking the lead but El Kaddouri and Ingason failed to connect with the ball following a free-kick into the six-yard box. That was probably the only real chance of note by either side until the last phase of the match, with defences on top for long spells of this battle.
The highlight of the match was the last phase of play. Warda was pushed on the edge of the penalty area as he soiught to evade an AEK defender. Murg , who had only been on the pitch for three minutes, set up the free-kick and executed with aplomb, sending a curling effort into Tsintotas' top left corner of the net, with the AEK keeper reduced to being a statue as the ball flew in and handed victory to the Double-headed Eagle.
The result means that PAOK have gained a clear qualifying lead ahead of the second leg at the Toumba which will take place on either the 27th, 28th or 29th of the month.
Team lineups:
AEK: Tsintotas, Lopes, Nedelcearu, Svarnas, Danchenko, Krsticic, Galanopoulos (63′ Symanski), Mantalos (88′ Machairas), Tankovic (63′ Almpanis), Levi Garcia, Oliveira (68′ Ansarifard)
PAOK: Paschalakis, Vieirinha (64′ Rodrigo), Ingason , Crespo, Baba, Augusto , Schwab , El Kaddouri (64′ Warda), Α.Ζivkovic, Tzolis (90+1′ Murg ), Krmencik (73′ Swiderski)