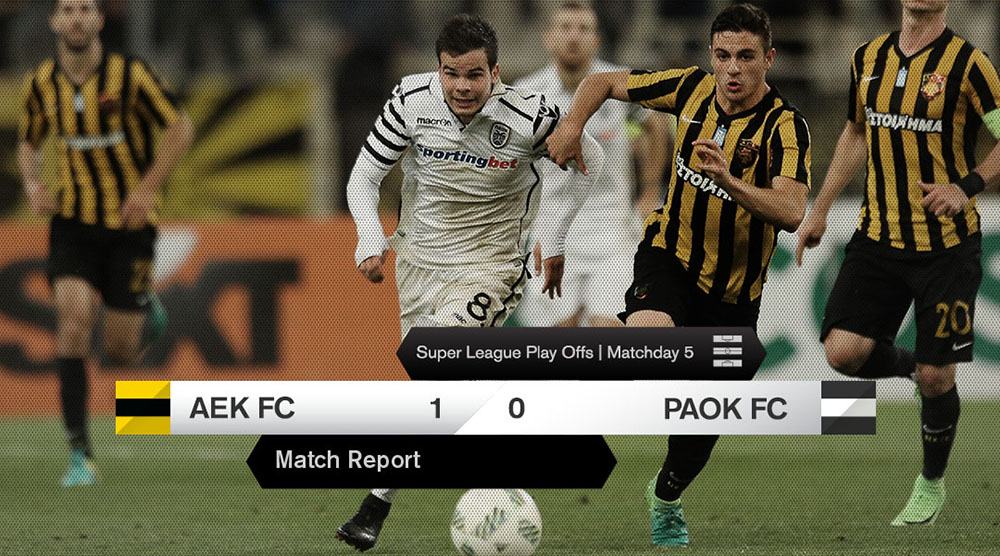 PAOK underperformed in Athens and lost 1-0 to AEK, on matchday 5 of the Super League play-offs.
Now PAOK need to win their last encounter against Panathinaikos in Toumba and claim top spot in the play-offs and a ticket for the upcoming UEFA Champions League qualifiers.
The "Double-Headed Eagle" got off to a slow start and could have fallen behind in the 6th minute, when referee Thanos awarded a penalty to the home side for a handfoul of José Ángel Crespo. However Christodoulopoulos missed his spot kick and PAOK were spared of an early setback.
The Thessaloniki outfit gradually picked up their rhythm and recorded their first worth-mentioning chance in the 12th minute, Charis Charisis's close-range effort on a cross by Marin Leovac flying over Anestis's goal.
It was a physical match with lots of duels in midfield and niggling fouls on both sides interrupting the flow of play.
The black-and-whites were struggling to find a way through to the opposite box, their passing game leaving much to be desired.
AEK Athens took advantage of a defensive slip-up by PAOK, Bakasetas getting to the ball and making it 1-0 in the 42nd minute.
The home side's lead added to PAOK's frustration, in a mediocre match. After the interval, they still couldn't shake off their nerves, were prone to errors and failed to pose real danger for Anestis and his defenders.
In the last quarter of the encounter, the visitors stepped on the throttle, gained space on the pitch and pressured for an equalizer.
It wasn't meant to be though. Stelios Malezas was sent off at stoppage time for his second bookable offense of the evening. He was dismissed for dissent, after referee Thanos denied PAOK of a blatant free-kick just outside the box for Kolovetsios's handfoul.
The final whistle sealed PAOK's 1-0 defeat and now they have no other option than to win their last game in Toumba, in order to finish at the top of the play-offs.
Line-ups:
ΑΕΚ: Anestis, Dídac, Chygrynskiy, Kolovetsios, Bakakis, Galanopoulos, Simões, Christodoulopoulos (63' Johansson), Mantalos, Bakasetas (83΄ Galo), Araujo (86' Pekhart).
PΑΟΚ: Brkić, Matos (82' Koulouris), Malezas, Crespo, Leovac, Cañas, Charisis, Cimirot (70' Pelkas), Campos (33' Henrique), Biseswar, Prijović.