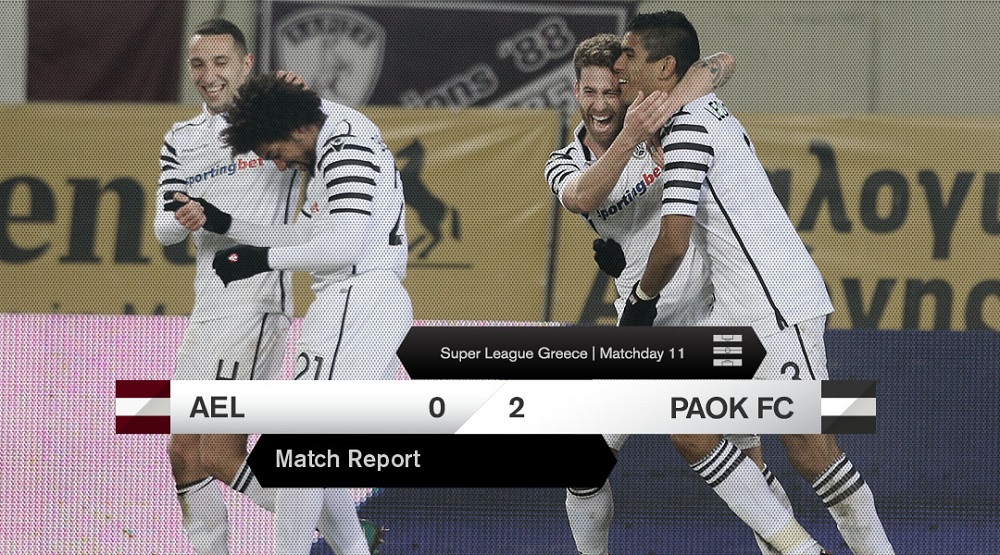 PAOK climbed to second place of the Super League standings after their important 2-0 away victory over AEL in Larissa.
PAOK started into the match with all systems go and managed to take the lead after just 9 minutes of play, with an impressive effort of Giannis Mystakidis who burst into Xenodochof's area, catching Larissa's defenders napping, and finished in style.
In the 16th minute, Efthymis Koulouris couldn't make the most of Gojko Cimirot's cross, sending his header just above the crossbar.
The "Two-Headed Eagle" kept pressuring for a second goal, but Cimirot's shot in the 23rd minute and Koulouris's shot two minutes later went wide.
And the chances kept coming. In the 34th minute, Diego Biseswar's shot following an excellent combination of PAOK players flew just past the left post. Cimirot's drive from the edge of the area was denied by the woodwork in the 41st minute.
The 0-1 scoreline barely reflected PAOK's overwhelming dominance on the pitch, as the two sides hit the dressing rooms for the interval.
In the second half, the "Two-Headed Eagle" continued their relentless pressing in midfield, Biseswar in command of their attacking moves.
The home side attempted temporarily to take the reins of the encounter, but PAOK bounced back and extended their lead to 0-2 in the 61st minute. Léo Matos found himself unmarked at the heart of AEL's box and made the most of Biseswar's well-taken free kick with a header.
From that point on, PAOK negotiated their lead ideally and recorded their fourth consecutive league victory. Let us also note Pedro Henrique's fine debut for the "Two-Headed Eagle".
Line-ups:
AEL Larissa: Xenodochof, Μoniakis (46' Αvraam), Τikito, Farkaš, Rentzas, Masalesa, Fatjon (68' Efmorfidis), Kontor, Chacopino (46' Varela), Nazlidis, Gállego.
PΑΟΚ: Glykos, Μalezas, Crespo, Leovac, Μatos, Cañas, Shakhov (85' Charisis), Cimirot, Biseswar, Κoulouris (74' Prijović), Μystakidis (67' Henrique).