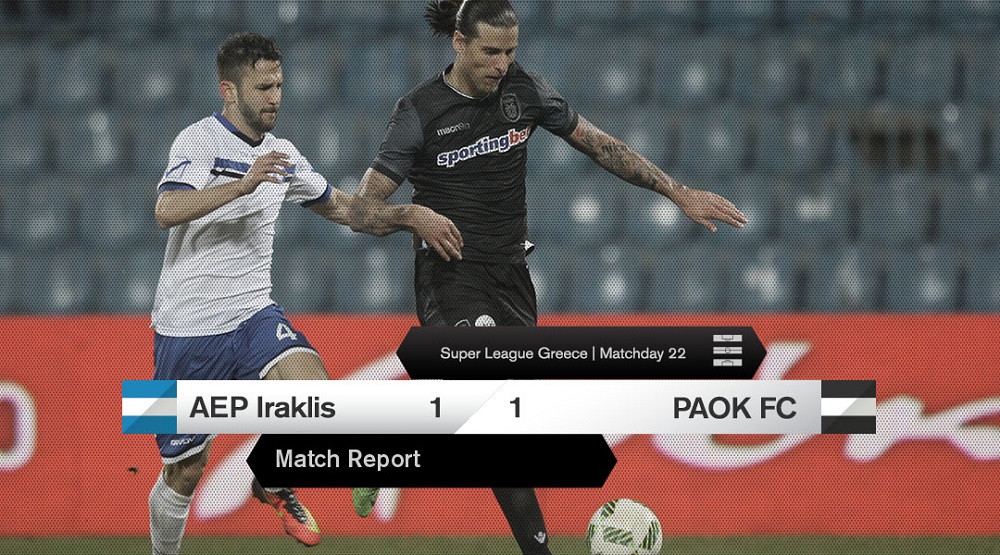 PAOK dropped points in Kaftanzoglio, after being held in a 1-1 draw by AEP Iraklis for matchday 22 of the Super League.
Despite their low-key start, the "Double-Headed Eagle" took an early lead. However the failed to finish off the encounter, enabling their opponents to come back into the encounter and deprive them of victory, as they usually do…
In the early stages of the match, niggling fouls and midfield duels interrupted flow of play. PAOK had a long-range shot with Amr Warda, before finding their footing on the pitch and improving their display.
They were rewarded in the 19th minute, when Huanderson could only knock a first-time effort by Léo Matos into the path of Aleksandar Prijović for the simplest of finishes. Three minutes later, Pedro Henrique wasted a unique opportunity for PAOK's second goal, firing wide from close range.
The "Double-Headed Eagle" dominated proceedings in the first half, but couldn't extend their lead before the interval.
They started into the second half with all systems go, looking good for the points and came close to more goals with Gojko Cimirot from the edge of the box (48') and with Warda (54'), but didn't beat Huanderson.
Dimitris Pelkas's long-range effort in the 73rd minute also looked promising, but by then the match pace had dropped considerably and errors were piling up, despite PAOK enjoying a 70% possession.
Iraklis equalized out of nowhere in the 80th minute with a header by Bastakos following a corner. The same player drew a block from Panagiotis Glykos three minutes later.
The last minutes of the encounter were marked by tense battles in midfield and the scoreboard remained unchanged.
Line-ups:
AEP Iraklis: Huanderson, Κouros, Ζiabaris, Τzanetopoulos, Αrgyropoulos, Donis, Stamou (69' Pasas), Grontis (78' Bastakos), Leozinho, Μonteiro, Perrone.
PΑΟΚ: Glykos, Μatos, Μalezas, Leovac, Crespo, Charisis, Cimirot, Warda (85' Athanasiadis), Biseswar (29' Pelkas), Henrique (44' Campos), Prijović.