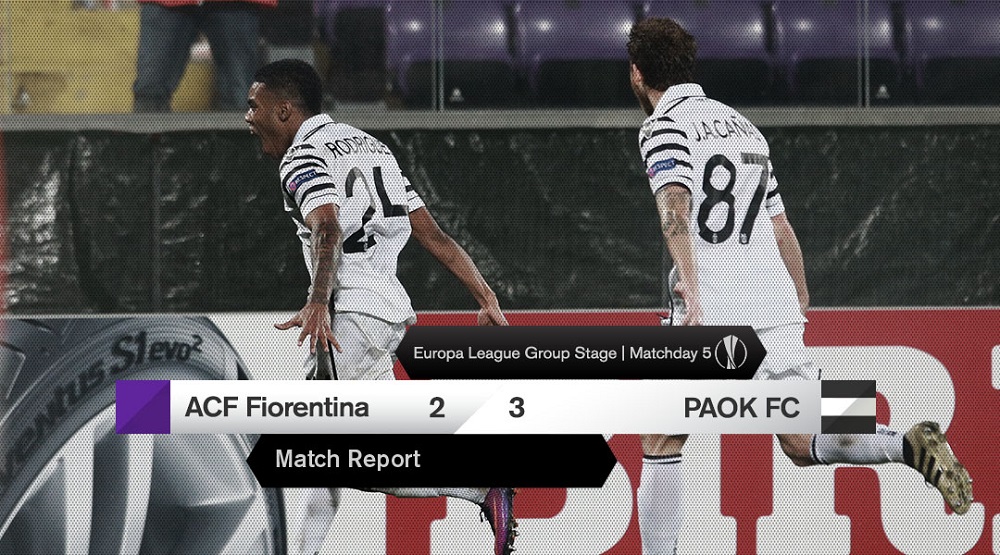 Alive and kicking in Europe
In a roller coaster of emotions, PAOK edged out ACF Fiorentina in "Artemio Franchi" securing a massive three-pointer on matchday 5 of the UEFA Europa League group stage.
This 3-2 win increased PAOK's qualifying chances dramatically, while proving that they are not a team to be trifled with in European competition!
The "Double-Headed Eagle" made an ideal start to their game in Florence, taking the lead after just five minutes of play. Yevhen Shakhov took advantage of Lezzerini's tentative save to keep out Djalma Campos's shot and tapped the ball in. Three minutes later, PAOK missed a glorious opportunity to double their lead, when Garry Rodrigues's powerful shot hit the post.
Then it was ACF Fiorentina's turn to be denied by woodwork. First Cristóforo's curling shot from outside the box rattled the crossbar in the 19th minute, while two minutes later Vecino also hit the crossbar and then the ball landed on the line, with Željko Brkić kicking it away.
Instead of getting equalized, PAOK increased their lead in the 27th minute through a counterattack by Rodrigues, who set up Campos for a fine finish. But the Italian side pressured to get on the scoreboard and achieved just that in the 32nd minute through Bernardeschi's shot.
The "Double-Headed Eagle" didn't start well after the interval and Babacar leveled for ACF Fiorentina in the 50th minute, prevailing in his duel with José Ángel Crespo and unleashing a shot past Brkić. The pace of the match was frenetic and, only two minutes after the equalizer, PAOK wasted a unique chance to take the lead again with Rodrigues. With Lezzerini beat and the goal at his mercy, the Cape Verde winger's shot was saved by Tomović who cleared the ball off the line.
In the 76th minute, Thiam also came close to a winner following yet another fine counterattack, his shot from an angle going wide. But that thrilling encounter was destined to have an equally thrilling ending. In stoppage time, Rodrigues stormed into the box, evaded his rival and unleashed a powerful shot to make it 3-2 and hand PAOK their first ever victory on Italian soil!
Line-ups:
ACF Fiorentina: Lezzerini, Tomović, Astori, Rodríguez, Milić (51' Chiesa), Cristóforo (66' Sánchez), Badelj, Tello (82' Iličić), Vecino, Bernardeschi, Babacar.
PAOK: Brkić , Matos, Leovac, Varela, Crespo, Cimirot, Cañas, Shakhov (82' Mystakidis), Rodrigues, Campos (71' Pelkas), Koulouris (61' Thiam).