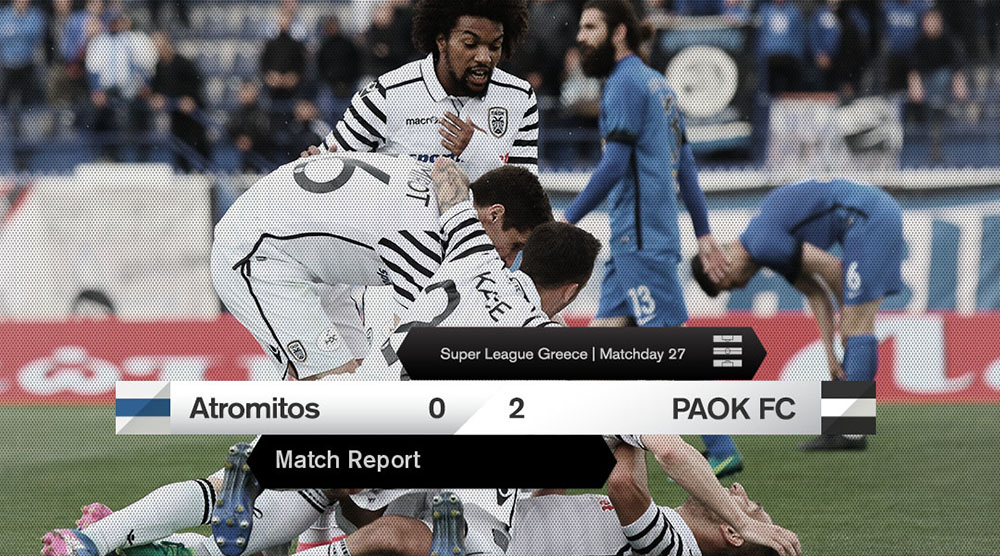 PAOK left no room for doubts
The "Double-Headed Eagle" put on a robust performance and cruised to a 2-0 victory over Atromitos in Peristeri, for matchday 27 of the Super League.
PAOK managed to finish off the game from the first half, recording their third consecutive league victory.
The "Double-Headed Eagle" started the match with all systems go and got their reward in double-quick time. In the 2nd minute, Diego Biseswar scored a beautifully-crafted and executed goal.
The two sides spent the following 20 minutes mainly battling it out in the midfield. In the 21st minute, Marin Leovac collected the rebound after Efthymis Koulouris's shot, but his attempt was denied by the crossbar.
PAOK were in command again and came close to a second goal at the stroke of half hour, with a long-range shot by lively Biseswar again. Eight minutes later, Stelios Kitsiou intercepted the ball, crossed from the left and incoming Koulouris made it 2-0 with a volleyed tap-in.
After withstanding Atromitos's pressure right after the interval, the black-and-whites went forward again. Teed up by Gojko Cimirot, Koulouris's side shot went narrowly wide.
Substitute Amr Warda frustrated rival defenders and drew a save from Gorbunov in the 77th minute. José Alberto Cañas came agonizingly close to a third goal for PAOK five minutes later, shooting directly at Atromitos's goalkeeper.
Despite the visitors' efforts, the scoreline remained unchanged. But PAOK's comfortable and convincing performance augurs well ahead of several tough encounters.
Line-ups:
Atromitos: Gorbunov, Katranis (83' Kontoes), Ζisopoulos, Fytanidis, Κivrakidis (39' Limnios), Μaniatis, Umbides, Diguiny (77' Platellas), Tonso, Kyriakidis, Le Tallec.
PAOK: Brkić, Kitsiou, Crespo, Malezas, Leovac, Kaçe (69' Shakhov), Cañas, Cimirot, Campos (83' Matos), Biseswar (77' Warda), Koulouris.