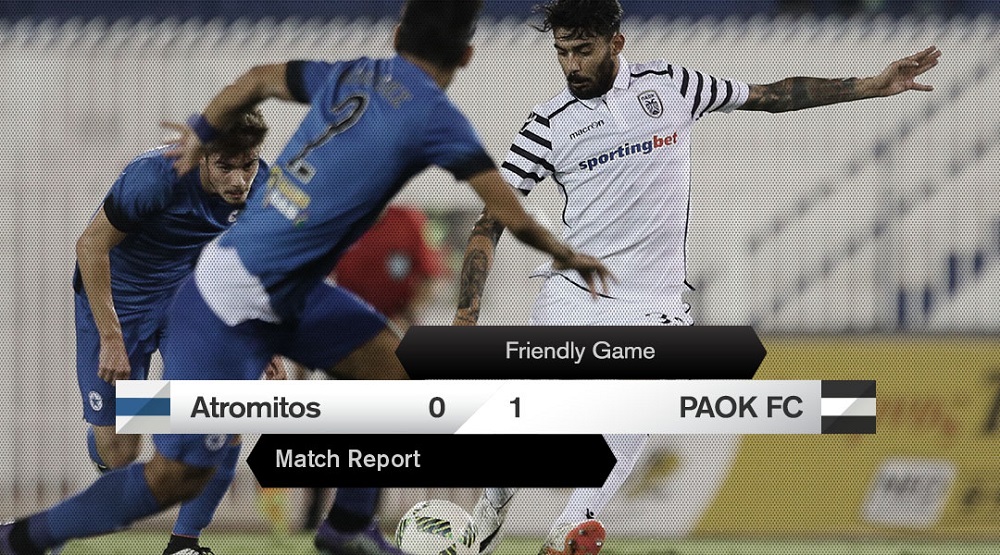 PAOK can be tough as well
The friendly encounter in Peristeri was totally different to the one against Veria. Atromitos se the match on tough mode, with many duels and hard man-to-man markings. PAOK prevailed in most of them, proving they are not scared of the game becoming more physical. The first half had pace and the second was a more cagey affair. The "Double-Headed Eagle" won 1-0 through an excellent improvisation of Klaus.
Gojko Cimirot fell victim to the home side's tough play, as he hurt his Achilles tendon early on and was substituted off. However his condition isn't worrying. Efthymis Koulouris and Giannis Mystakidis also left the pitch having suffered knocks, while play was held several times for team doctors to attend to players.
The match was an even affair at the first stages and there were no big chances until the 15th minute, when Željko Brkić denied Limnios from scoring. Five minutes later, Dimitris Pelkas came close with a smart direct kick, but Gorbunov reacted in time. The biggest chance came in the 35th minute, when Koulouris had a shot on woodwork from the edge of the area.
After the interval, the two coaches made several substitutions and spaces became scarse, also due to fatigue. But PAOK carved out several chances to score, the best coming from Nikos Korovesis who was teed up beautifully by Djalma Campos's lobbed through-ball in the 70th minute, but he missed his finish.
Answers are provided on the pitch and that is what much-talked-about-lately Stefanos Athanasiadis did, by scoring from the halfline! In the 86th minute, Klaus saw goalkeeper Papadopoulos out of his 6-yard box and he unleashed a 45-metre shot for a rare goal that was celebrated accordingly by his teammates!
PAOK players were applauded by 200 fans of the team who attended the Peristeri match, the last test before the Tbilisi match that gave Vladan Ivić the opportunity for some useful conclusions.
The line-up of PAOK:
Brkić, Matos, Crespo (79′ Pougouras), Τzavellas, Giannoulis, Cimirot (39′ Μattheou), Cañas, Pelkas (79′ Dimitriadis), Campos, Μystakidis (59′ Κorovesis), Κoulouris (59′ Αthanasiadis)