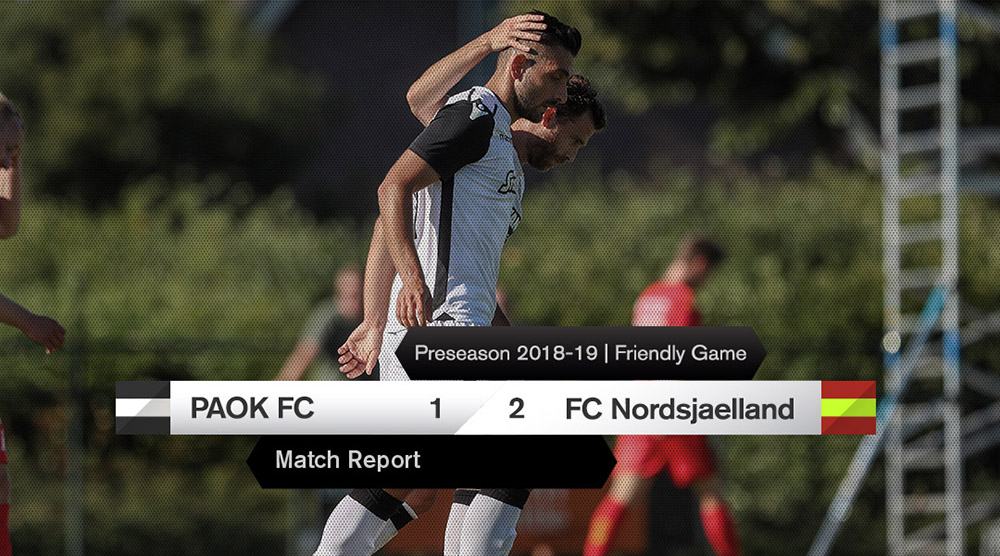 First stage of preseason concludes with a defeat
PAOK coach Răzvan Lucescu got the opportunity to watch his players in action once again and chose to field different line-ups in each half and shuffle his pack. Adelino Vieirinha made his first appearance of the season. Panagiotis Glykos also returned to defend goal after a 14-month absence.
In the first half, the Danish side applied pressing high up the pitch, disrupting the deployment of the "Double-Headed Eagle". They carved out their first opportunity in the 7th minute taking the lead with a close-range finish. PAOK players tried to react and took the attacking initiative, but conceded a second goal in the 31st minute as their defence was caught napping. The first part concluded with two good chances, but no goal for the Thessaloniki outfit.
Lucescu's troops stormed out of the blocks after the interval in search of a goal. Diego Biseswar tried some tentative shots, Efthymis Koulouris fought hard in the rival area, while young Konstantinos Balogiannis initiated some dangerous runs down the flank towards the opponents' box. PAOK got their reward in the 75th minute with a close-range finish by Koulouris, on a cross by Dimitris Limnios and a first header by Pedro Henrique.
The scoreline remained unchanged and the "Double-Headed Eagle" completed the first stage of their preseason with a defeat. PAOK expedition members will return to Thessaloniki on Tuesday and the players have been given 48 hours off. They are summoned back to training on Friday morning (6 July). On Sunday, they will fly back to the Netherlands but head towards Oosterbeek for the second stage of their preseason.
PAOK's line-ups:
1st half: Rey, Κitsiou, Vieirinha , Crespo , Mihojević, Maurício, Shakhov, Pelkas, Limnios, Mystakidis, Lamprou .
2nd half: Glykos, Μatos, Balogiannis, Μalezas, Varela , Cañas, Charisis, Pelkas (63′ Limnios), Biseswar, Henrique, Κoulouris.