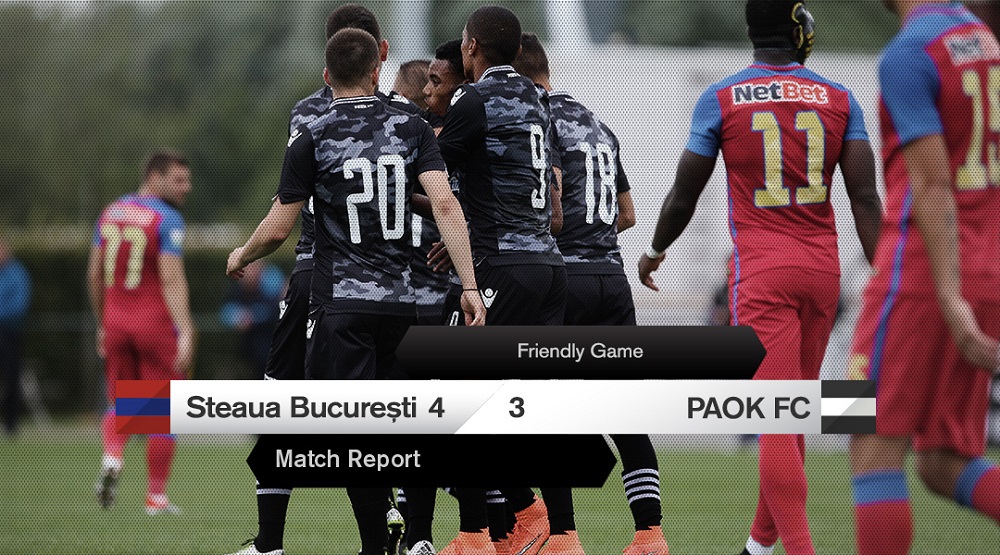 A… book full of conclusions
If friendlies are held for the coaches to draw conclusions, then Vladan Ivić has tons of them, after the 4-3 loss to FC Steaua București, with all goals scored in the first half.
PAOK coach drew some positive conclusions, but there were several negative ones, especially regarding the team's defensive function. All of them however come at the right time, at the heart of preseason, when there is time to remedy the negative and boost the positive elements.
The first half was erratic by both sides. PAOK started ideally with a goal in the 3rd minute with a header by Efthymis Koulouris following a free-kick by Dimitris Pelkas, while Jairo and Alexandros Tziolis wasted two good chances to extend the lead of the "Double-Headed Eagle". Halfway through the first half, PAOK were dictating pace, attacking from the flanks and keeping their opponents at bay.
FC Steaua București equalized from a corner set piece and claimed more of the ball. However they fell two goals behind after scoring an own-goal and conceding from a Garry Rodrigues's direct free kick. PAOK regained control, but didn't step on the brake. High pace resulted in them conceding three "cold" goals in a span of 8 minutes!
Despite it being a friendly encounter, Vladan Ivić could draw some very useful conclusions. The "Double-Headed Eagle" were lively and creative upfront, but failed to contain pace and defend their lead.
It became a tighter affair after the interval. PAOK were the ones looking for an equalizer in a more rational manner and wasted chances through Pelkas, Giannis Mystakidis and Djalma Campos. The Romanian outfit tried to beat Panagiotis Glykos/strong> with long-range shots.
Vladan Ivić saw his troops being resourceful in attack, dictace pace in long patches of the game and push for goals. But they were also careless in their man-markings and lacked concentration at times. However that is considered normal during preseason.
PAOK have still two friendly encounters to negociate before their first European match and they will get the opportunity to try out several things.
PAOK line-up: Vellidis (46′ Glykos), Κitsiou (46′ Μatos), Crespo (59' Chatziisaias), Μalezas (59′ Τzavellas), Giannoulis (46′ Leovac), Charisis (70′ Shakhov), Τziolis (59′ Cimirot), Pelkas (59′ Pereyra), Rodrigues (70′ Mystakidis), Κoulouris (59′ Αthanasiadis), Jairo (46′ Campos).