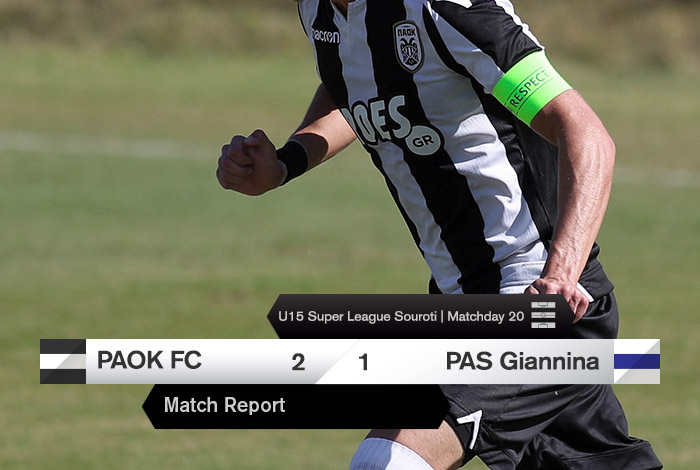 Undefeated U15s gear up for Final Four
The pupils of Apostolos Papavasiliou and Dimitris Taxidis defeated PAS Giannina 2-1 in Souroti. With a total of 46 points, a massive 19-point distance from second—placed Aris, they are prepping for the Final Four. Olympiakos and Panathinaikos topped Group A and will also be present in the Lamia Final Four, to be held from 4 to 7 April.
PAOK enjoyed a smooth ride in the regular season and their supremacy was never doubted. Besides, fifteen victories and a draw are quite self explanatory…
PAOK took a 2-0 lead in the first half with a brace by Smyrlis (22', 34'), both goals coming from excellent individual moves. PAS Giannina reduced distances in the 80th minute.
PAOK U15: Botis, Τasiouras (57' Sinanaj) Rumiantsev (47' Zafiriadis), Ζilo, Κoutsidis (40' Τoskos), Τsikos (52' Symeonidis), Smyrlis (40' Kedikoglou), Pitilakos, Κoulouris, Spyridopoulos, Κoutsias.