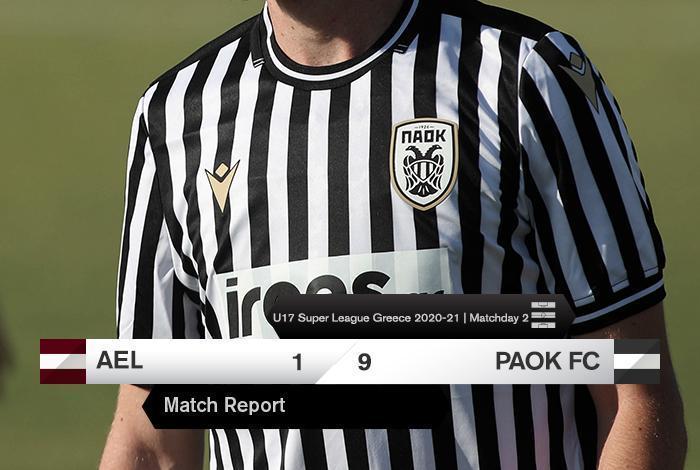 Impressive away win at Larissa for Under-17s
PAOK's Under-17 side steamrolled Larissa in the Super League, coming away from Thessaly with a stunning 9-1 victory.
Papavassiliou's and Taxidis's players began their goal crusade early with Varela opening the scoring from an assist by Tasiouras. The hosts equalized in the 11th minute, however, parity did not last long with Varela again finding the net in the 19th minute following an assist from Kottas to make it 2-1.
Then followed a crescendo of goals from Lambros Smyrlis, who made it 3-0 in the 21st minute with a nice individual effort, and he grabbed another on 32 minutes to make it 4-1 (following an assist by Babouras). Smyrlis was not done there, adding another from a Babouras assist in the 49th minute to make it 5-1, then he netted again in the 75th minute from Iordanidis' pass. Before that strike, Babouras scored in the 58th minute – the sixth for PAOK – after Tassiouras' pass.
There were two more goals in the final 10 minutes, with first Smyrlis teeing up Zilos in the 82nd minute to make it 8-1, while Iordanidis converted Martos's pass two minutes from time to make the final score an astonishing one at 9-1.
PAOK line-up: Angelidis, Tasiouras (70′ Tsaloukidis), Chourdakis (58′ Kastidis), Sinanai, Zilos, Kottas, Babouras (65′ Martos), Tsikos, Varela (58′ Iordanidis), Kalogiros, (58′ Goumas), Smyrlis