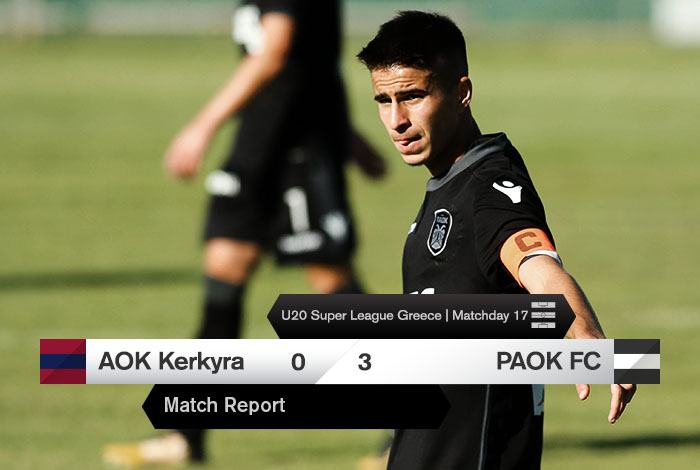 PAOK took the reins of the encounter right from the start, claiming ball possession and dictating the pace.
After missing a few good opportunities to score the opener and surviving two scares in their own defence, PAOK broke the deadlock. After a fine move, Balogiannis crossed the ball in the area and in-coming Chatzistravos made it 1-0 with a neat finish.
After the interval, Pablo García's players came out on the pitch determined to finish off the match. They prevented their hosts of becoming dangerous again and scored two more goals for the final 3-0 result.
In the 72nd minute, Papadopoulos broke free from his opponents, entered the box and AOK Kerkyra players scored an own-goal in their effort to clear the danger. Ten minutes later, Balogiannis sealed PAOK's victory with a fine individual effort.
PAOK U20: Siampanis, Papathanasiou, Lyratzis, Mišković (80′ Dimitriou), Diamantis, Tsiggaras (80′ Maniotis), Balogiannis, Chatzistravos, Κozak (68′ Tzovaras), Papadopoulos, Stathopoulos.