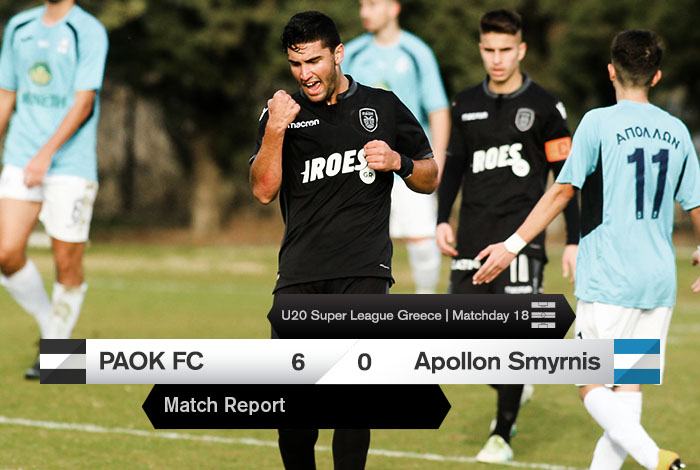 A walk in the park for the U20s
Right from kick-off, PAOK youngsters staged a siege around the visitors' box and started firing at will. Teed up by Lyratzis, Tzovaras missed two good chances with as many headers for an opener in the first quarter, while the rival goalkeeper stopped Gargalatzidis in a one-on-one in the 21st minute.
Two minutes later though, the young forward danced his way among the Apollon defenders with a fine move and his impeccable finish gave PAOK the lead. The home side remained in command but could only find more goals by the end of the first half.
Visiting defenders saved before the ball crossed the line from Chatzistravos's effort, but eventually the ball landed at the feet of Tsiggaras who fired execution-style for a 2-0 lead. In the 44th minute, Chatzistravos collected the rebound after a spectacular save of Apollon's goalkeeper and extended PAOK's lead.
The match pace dropped considerably after the interval, with PAOK always in control of proceedings. In the last quarter, Gargalatzidis stepped on the throttle and scored three more goals, sealing his side's triumph.
He made it 4-0 with a header in the 77th minute following a free-kick by Tsaousis. He completed his hat-trick in the 89th minute with a close-range tap-in and, one minute later, he increased his tally with a header set up by Tzovaras's cross.
PAOK U20: S.Papadopoulos, Diamantis (46' Voutsas), Michailidis, Lyratzis, Tsiggaras, Tsaousis, Ch.Papadopoulos (61' Doumtsis), Balogiannis (61' Maniotis), Gargalatzidis, Chatzistravos, Tzovaras.