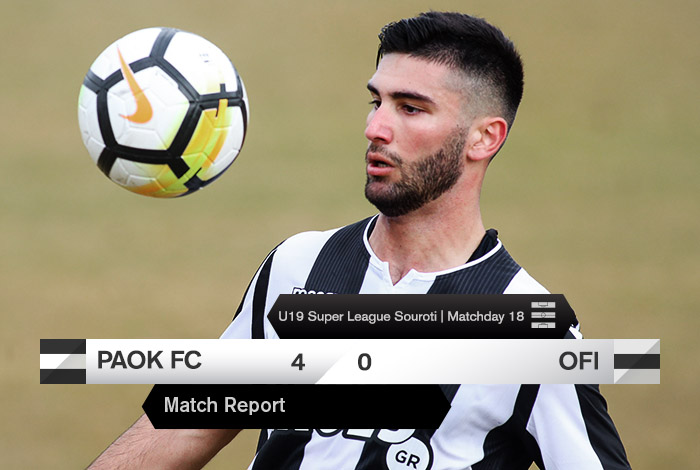 PAOK U19s cruise past OFI Crete
The troops of Pablo García and Mirosław Sznaucner lead the standings of Super League U19 with 49 points, while AEK Athens trail with 10 (and a game in hand).
The first half was rather uneventful. PAOK were in control mode, wasted two great chances to break the deadlock (through Gargalatzidis and Gaitanidis), but couldn't score. They were not threatened either.
The outlook of the encounter changed in the second half, as the "Double-Headed Eagle" players hit the ground running, and more determined. They were rewarded in the 51st minute, Gargalatzidis heading home Balogiannis's cross. In the 68th minute, PAOK extended their lead to two goals, with Lyratzis beating OFI Crete's goalkeeper and poking the ball past the line.
PAOK were firmly in control, but wanted more goals. In the 72nd minute, Gargalatzidis made it 3-0 teed up by Karakoutis. The latter (born in 2003) added the icing on the cake, PAOK's fourth goal of the day, with a fine individual effort.
PAOK U19: Papadopoulos, Lyratzis, Τachatos, Diamantis, Voutsas, Μaniotis, Chatzistravos (78' Μeletidis), Balogiannis, Gaitanidis (75΄Pournaras), Panidis (58' Karakoutis), Gargalatzidis.