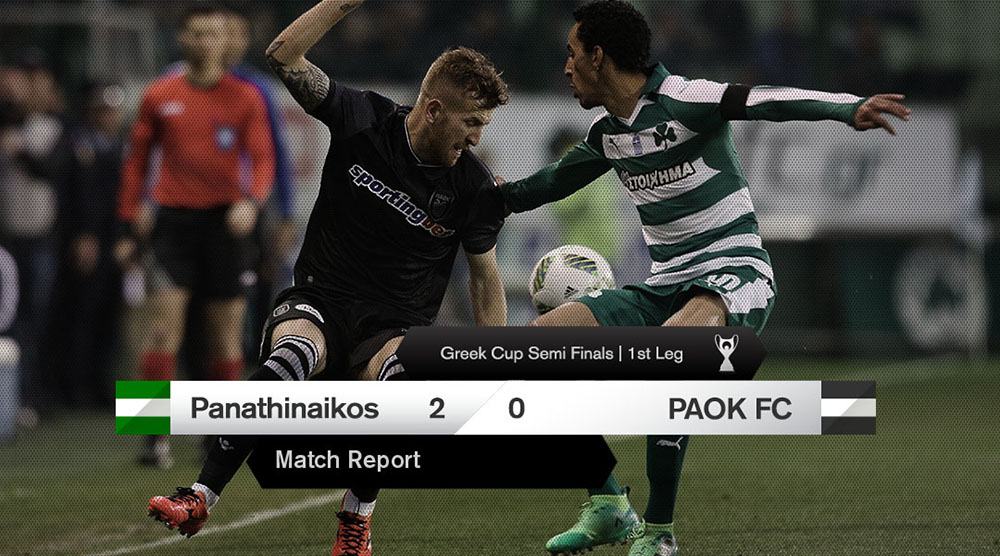 PAOK lost 2-0 to Panathinaikos in Leoforos, for the first leg of the Greek Cup semi-finals.
PAOK have their work cut for them in Toumba Stadium, after losing 2-0 to Panathinaikos in Athens, conceding goals in the early and late stages of the first leg.
The "Double-Headed Eagle" started the match with their usual recon game, applying pressure high up the pitch and giving Panathinaikos's defence quite a few scares.
However, a three-minute siege of their own box by the Greens led to the home side's opener. Marcus Berg took the rebound after Panagiotis Glykos's initial save of a corner shot, teed up Moledo who broke the deadlock, tapping the ball in off the inside of the right post in the 21st minute.
Pedro Henrique squandered PAOK's best opportunity seven minutes later. Set up by Marin Leovac, he fired shockingly wide while unmarked in the middle of the box.
That was the visitors' last attempt to equalize until the interval. They hit the dressing rooms trailing their guests, despite a rather level first half.
In the second half, the "Double-Headed Eagle" tried to create danger in Panathinaikos's area, but to no avail. In the 71st minute, the referee and his assistant waved "play" when Léo Matos's effort was stopped by Hult's handfoul.
Seven minutes from time, Panathinaikos extended their lead with substitute Leto, on an assist by Berg.
Now PAOK need to brace up for a mighty comeback in the second leg in order to qualify for the Greek Cup final.
Line-ups:
Panathinaikos: Vlachodimos, Coulibaly, Κoutroubis, Moledo, Hult, Villafáñez (86' Molins), Zeca, Kourbelis, M'Poku, Κlonaridis (75' Leto), Bergo (92' Reis).
PΑΟΚ: Glykos, Μatos, Μalezas, Crespo, Leovac, Shakhov (88' Cimirot), Cañas, Warda, Campos (73' Κitsiou), Henrique (58' Pelkas), Κoulouris.