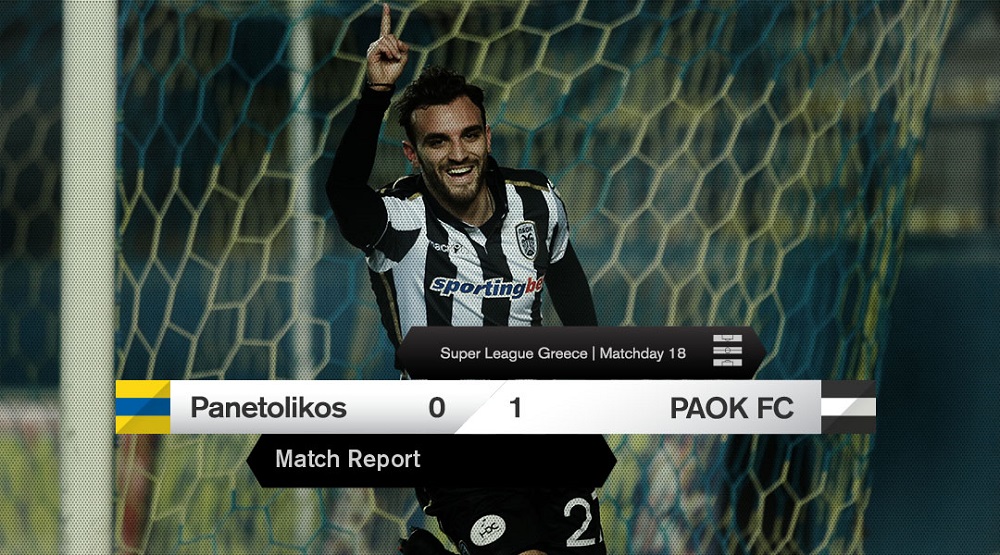 Perfect record against Panetolikos
PAOK recorded yet another important victory, prevailing 1-0 at Panetolikos for matchday 18 of the Super League.
The "Two-Headed Eagle" overcame their numerical inferiority, put on a commanding performance and defeated the Agrinio outfit for the fourth time in as many matches his season (Super League and Greek Cup).
They first signaled their intents in the 6th minute, when Shakhov collected the ball following a weak save by Kyriakidis, but sent it just over the crossbar.
The Ukrainian midfielder of PAOK was involved in the play of the 14th minute as well. Once again he took the rebound from Kyriakidis's save of a close range shot by Biseswar, but was denied by the crossbar.
Two minutes later, it was Biseswar's turn to squander a huge opportunity, when he managed to fire shockingly wide despite finding himself unmarked in Panetolikos's box.
Crespo's goal in the 21st minute was disallowed on the offside rule. However PAOK were clearly dominating proceedings.
In the 32nd minute, Athanasiadis was sent off with a direct red car, the referee judging that he elbowed Chantakias, although PAOK's forward was fouled by his rival. The "Two-Headed Eagle were forced to spend an hour on the pitch in numerical disadvantage.
However they didn't fold back. On the contrary, they fired on all cylinders and came close to breaking the deadlock in the 41st minute, when Shakhov misplaced his header with the goal at his mercy.
The wasted chances' galore continued after the interval as well. In the 51st minute, Shakhov couldn't make the most of an excellent cross by Mystakidis, allowing Kyriakidis to block his shot.
PAOK's efforts were rewarded in the 62nd minute. Leovac teed up Mystakidis in the far post and the latter beat Panetolikos's goalkeeper with a header.
Five minutes later, Mystakidis came agonizingly close to a brace, but Chantakias and Kyriakidis produced a double save. Matos was set up by Leovac in the 86th, but failed to drill his shot past Kyriakidis.
Line-ups:
Panetolikos: Kyriakidis, Kousas, Chantakias, Rodrigues (65' Farley), Mygas (40' Koutromanos), Rocha, Μakos, Paulo, Clésio, Muñoz (78' Lopes), Markovski.
PΑΟΚ: Glykos, Crespo, Varela, Leovac, Μatos, Cimirot, Shakhov, Campos (40' Mystakidis), Biseswar (63' Malezas), Pelkas (75' Cañas), Athanasiadis.