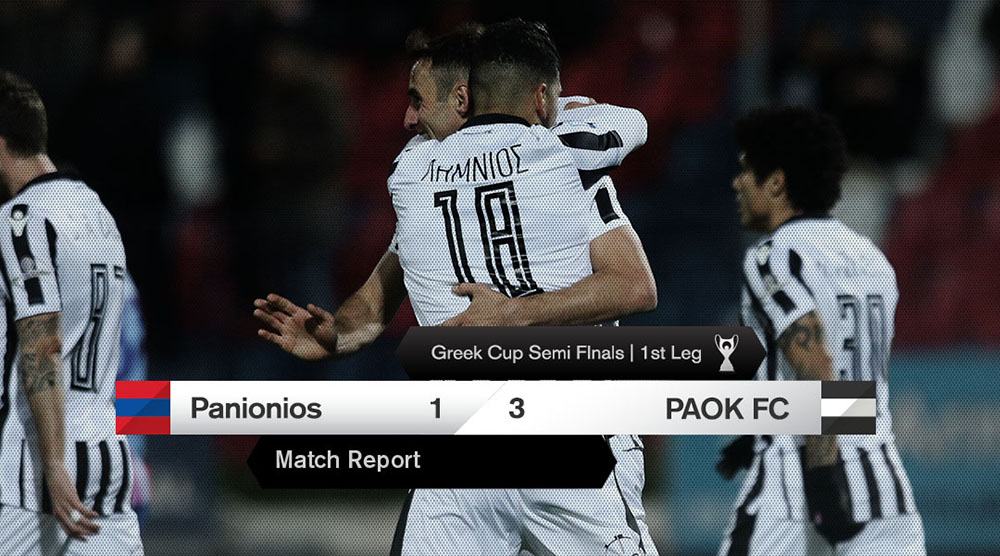 No wonder some are getting "injured"
Michalis Grigoriou's scouting wasn't that good apparently. He let his team face PAOK without alleging injury! Had he watched the latest… encounter of their Wednesday rivals, he would have ascertained that there is a more effective, though humiliating, way to stop the "Double-Headed Eagle" nowadays.
Panionios did the honourable thing and fought honestly before their fans –and that, nowadays, is in itself a reason for gratitude. PAOK were decided to focus on football, a field where they can't be contained lately. Impeccable passing, pressing high up the pitch, inspired and determined, they started into the encounter with all systems go, getting the reins from minute one.
They took the lead in the 24th minute with a Dimitris Limnios or Maurício goal (it's not clear who taped the ball in, but the Brazilian has been credited with it). Ten minutes later, Aleksandar Prijović's powerful header extended PAOK's lead leaving no room for the home side to reverse the situation.
After the interval, the visitors mainly focused on holding on to that 2-0. Even so, they wasted opportunities for more goals. Diego Biseswar got on the scorers' sheet with a beautiful strike from long range in the 73rd minute. Panionios could only reduce distances through Korbos in the 86th minute following a corner and a defensive slip-up.
PAOK secured a victory that all coaches dream of from an away first semi-final leg. Now they await Panionios in Toumba Stadium for a great second leg, to seal their qualification to the Greek Cup final.
Line-ups:
Panionios (Michalis Grigoriou): Kotnik, Banana, Guilhoata (46′ Stavropoulos), Vlachos, Saramantas, Korbos, Washington (68′ Brahimi), Spiridonović, Masouras, Savvidis, Yeşil (46′ Papageorgiou).
PΑΟΚ ( Răzvan Lucescu ): Paschalakis, Varela, Malezas, Vieirinha , Azevedo, Maurício (75′ Shakhov), Cañas, Limnios, Pelkas (65′ Biseswar ), Mak, Prijović (69′ Koulouris).