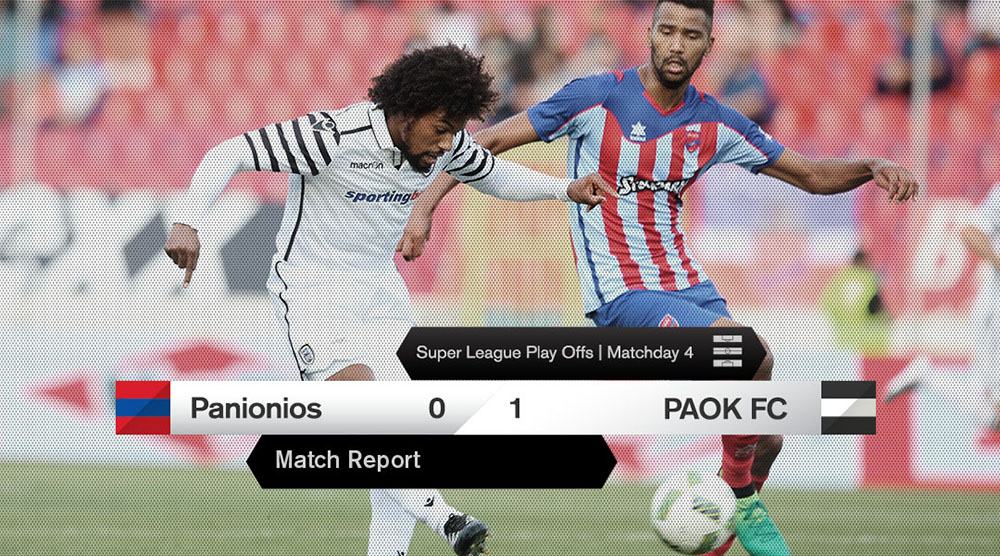 PAOK keep their fate in their own hands
PAOK prevailed in Nea Smyrni, recording a second consecutive 1-0 victory over Panionios for matchday 4 of the Super League play-offs.
The "Double-Headed League" made the most of their early lead, held on to it until the end of the match and edged out a victory in Nea Smyrni. They now have a healthy advantage in the play-offs, with two matchdays remaining.
Just like in Sunday's match, PAOK dominated proceedings right from the start, trying to carve out opportunities to score.
They almost broke the deadlock in the 13th minute through Djalma Campos, but his shot was blocked by Bantis.
One minute later though, Panionios goalkeeper couldn't do anything to prevent PAOK's opener. The Angolan winger set up Aleksandar Prijović beautifully, the latter crossed and Risvanis, in his effort to clear the danger, only succeeded in diverting past his own keeper.
In the 25th minute, PAOK went close to a 2-0 lead with Pedro Henrique, but the Brazilian passed up the opportunity to beat Bantis.
An even better opportunity presented itself in the 26th minute, when Gojko Cimirot was denied by the Nea Smyrni goalkeeper.
At the stroke of half hour, Diego Biseswar found himself unbothered in Panionios's box, but fired his shot wide.
The "Double-Headed Eagle" kept their foot on the throttle with fine attacking combinations, but were rather shaky especially in front of their back four and Panagiotis Glykos had to intervene to keep the hosts at bay.
The second half started just like the first one, with PAOK on the driver's seat. In the 74th minute, Biseswar picked up Dimitris Pelkas with an excellent through-ball, but Bantis volleyed out the youngster's low shot.
The Dutch attacking midfielder missed his chance in the 85th minute, as his close-range header flew wide. The 1-0 scoreline didn't change until the final whistle and PAOK escaped Nea Smyrni with a narrow, yet crucial victory.
Line-ups:
Panionios: Bantis, Guihoata, Tasoulis, Ikonomou, Risvanis (58' Μouktaris), Korbos, Tapoko, Κatharios, Μasouras (54' Mahmutović), Savvidis (80' Voukelatos), Ben.
PΑΟΚ: Glykos, Μatos, Leovac, Pouggouras (46' Μalezas), Crespo, Cañas, Cimirot, Biseswar, Campos (67' Pelkas), Henrique (86' Κitsiou), Prijović.