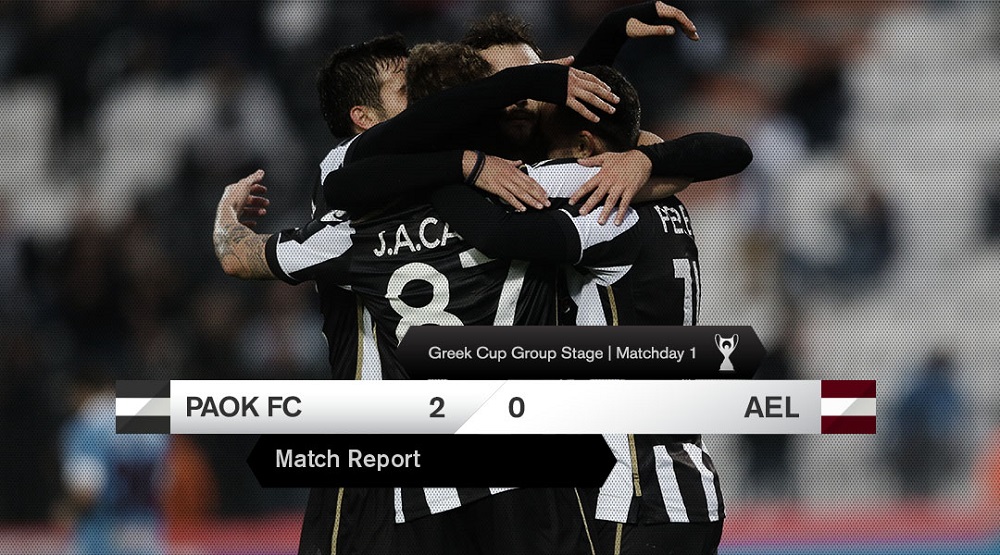 PAOK kicked off their Greek Cup group stage campaign in fine style, prevailing 2-0 over AEL Larissa in Toumba Stadium.
PAOK were determined to "finish off" the encounter early and started very strongly. In the 11th minute, following an excellent through-ball by Diego Biseswar, Facundo Pereyra saw the left and then the right post deny him of the opener.
Six minutes later, the "Double-Headed Eagle" wasted another double opportunity. On a corner kick by Pereyra, Stelios Malezas headed the ball towards José Ángel Crespo whose effort was kept out by Kavousakis in extremis. A few seconds later, the visiting goalkeeper pulled off another save to deny Pereyra. PAOK kept at it and, in the 19th minute, Efthymis Koulouris saw his header being cleared off the line.
Giannis Mystakidis scored the opener for PAOK in minute 28, taking the rebound after José Alberto Cañas's long range effort and lobbing Kavousakis from the six-yard box.
Pereyra doubled PAOK's lead in the 41st minute. He controlled Biseswar's defence-splitting ball impeccably and unleashed a low powerful shot to beat Kavousakis.
After the interval, the pace of the game dropped. However Mame Baba Thiam came close to a third goal for the home side in the 72nd minute, but was denied by AEL Larissa's shot-stopper.
PAOK remained in control of proceedings until the final whistle and comfortably earned their first three points in the Greek Cup group stage.
Line-ups:
PΑΟΚ: Brkić, Kitsiou, Malezas, Crespo, Giannoulis (74' Korovesis), Charisis, Cañas (62' Cimirot), Pereyra, Biseswar, Mystakidis (59' Thiam), Koulouris.
AEL Larissa: Kavousakis, Μοniakis, Potouridis, Jovanović, Navarro, Souliotis, Lampropoulos, Anastasopoulos, Koutsianikoulis (46' Avraam), Maroukakis, Varela (59' Deletić).