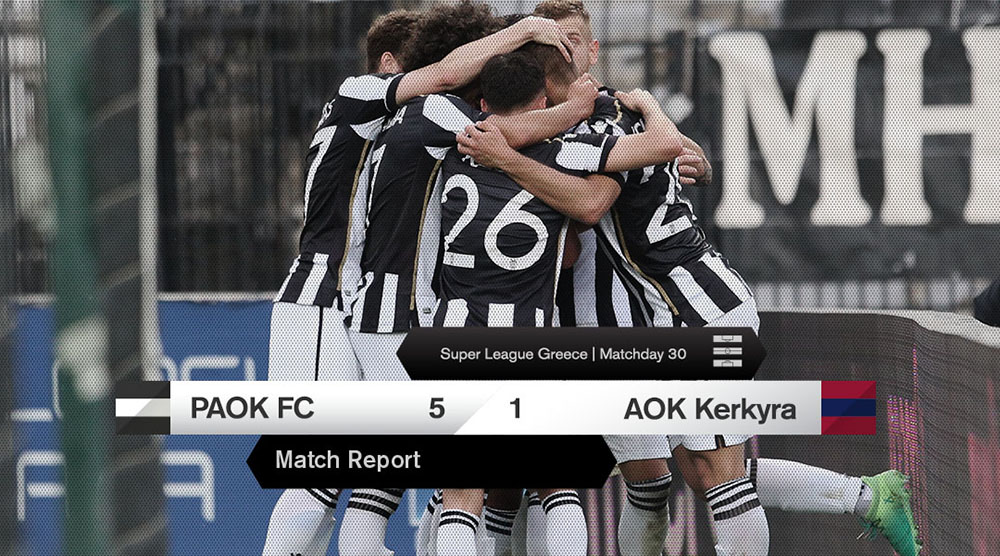 Many changes, same mentality
A… different but equally impressive PAOK cruised to a very comfortable 5-1 victory over AOK Kerkyra, on the last matchday of the Super League regular season.
Despite a much-changed line-up, the "Double-Headed Eagle" imposed their tempo and monopolized the ball right from the start, dominating proceedings. Their performance makes the final scoreline seem rather poor.
PAOK's first attempt to take the lead was recorded in the 5th minute with a long-range shot by Diego Biseswar, pushed away by Koutzavasilis for a corner. One minute later, Kerkyra's shotstopper blocked Pedro Henrique's header as well.
Koutzavasilis was on call in the 13th minute as well, preventing Amr Warda's powerful shot from crossing the line. He also got across to deny Henrique's impressive effort two minutes later.
Warda was unable to beat the goalkeeper of the Corfu side in the 21st minute, but Ergys Kaçe managed to break the deadlock at the stroke of half hour.
PAOK's midfielder initiated a three-minute goal galore… He scored the opener with a diving header, following an impressive solo effort by Pedro Henrique.
AOK Kerkyra reacted immediately by converting their one and only opportunity in PAOK's box, Pamlidis netting the equalizer. The "Double-Headed Eagle" however restored their lead at once, in the 32nd minute, with a volleyed close-range shot by Efthymis Koulouris on yet another assist by Henrique.
In-form Biseswar extended PAOK's lead in injury time of the first half, by converting a spot kick earned by Stelios Kitsiou.
The home side kept their foot on the throttle after the interval. Panagiotis Deligiannidis came close to a fourth goal for PAOK, but Koutzavasilis denied him.
The "Double-Headed Eagle" had practically camped in Kerkyra's box and it was only normal that more goals would follow. Warda made it 4-1 with an angled shot in the 62nd minute.
As for Aleksandar Prijović, he also got his name on the scorers' list, with a beautiful finish. He left Ioannou behind with a masterful dribble and lobbed Koutzavasilis to seal PAOK's 5-1 victory in the 84th minute.
The Thessaloniki outfit went for a sixth one, but Koutzavasilis denied Koulouris deep into stoppage time.
Line-ups:
PΑΟΚ: Brkić (46' Siampanis), Kitsiou, Pouggouras, Malezas, Deligiannidis, Cañas, Kaçe, Biseswar (59' Prijović), Henrique (69' Charisis), Warda, Koulouris.
AOK Kerkyra: Koutzavasilis, Epstein, Gromitsaris, Ioannou, Spinoulas, Pamlidis, Siontis, Zorbas, Kontos (85' Τrepeklis), Οnyilo (63' Τzanoulinos),Georgakopoulos (76' Gamagas).