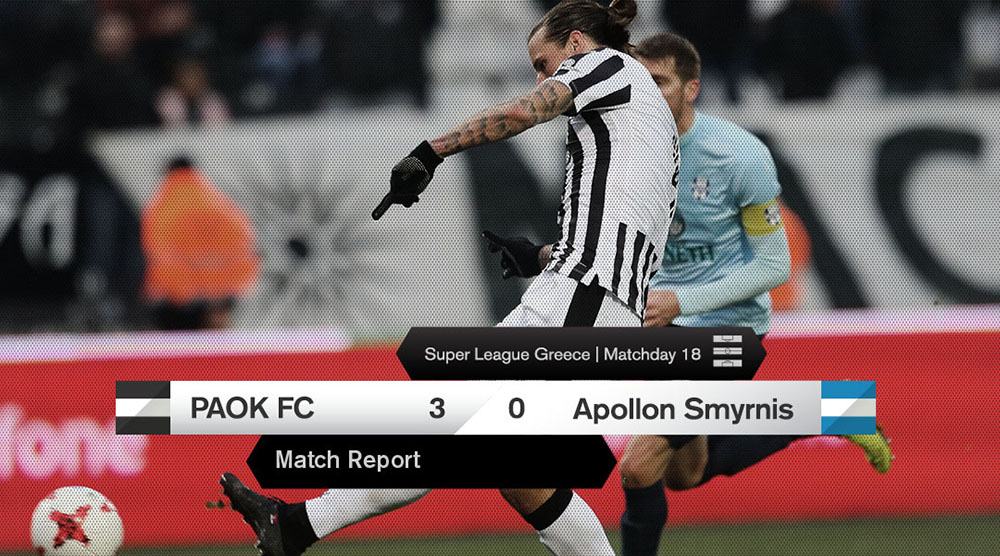 The home side started strongly, getting the reins of the encounter right from kick off, in search of an early goal that would simplify their task. They got their reward in the 27th minute through a combination by Róbert Mak and Aleksandar Prijović, the latter providing the assist and the former scoring with an impeccable finish.
Just before the interval, PAOK extended their lead with an own goal by Emmanuel Koné. Meanwhile, the visitors were far from menacing and the "Double-Headed Eagle" had no problem to keep a clean sheet once more in the league.
In the second half, the "Double-Headed Eagle" carved out many opportunities to score, had a shot on woodwork, just like Apollon, and got a third goal deep into stoppage time. "Usual suspect" Aleksandar Prijović sent the ball at the back of the net after a sensational assist by Léo Matos. This 3-0 victory of PAOK permit them to keep up the pressure on Olympiacos.
Line-ups:
PΑΟΚ ( Răzvan Lucescu ): Paschalakis, Matos, Varela, Crespo, Vieirinha , Cimirot, Maurício (86' Shakhov), Pelkas (81' El Kaddouri ), Mak, Campos (77' Limnios), Prijović.
Apollon Smyrni (Giorgos Paraschos): Huanderson, Kouros (66' Juárez), Bartolini, Zisopoulos, Stathis, Tsoukalas (74' Mendrinos), Kontoes, Fonsi Nadales, Koné, Devesa (81' Alivodić), Almpanis.