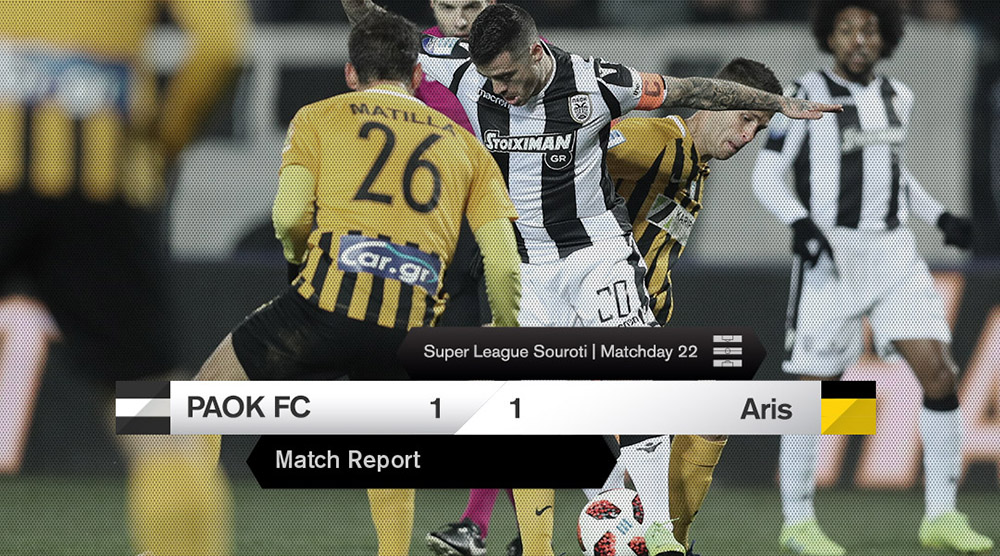 The visitors made an –eventually successful- effort to close up spaces, tone the pace down and dictate proceedings.
The final 1-1 doesn't alter the outlook of the title race, but serves as a wake-up call: nobody should take anything for granted until the end of the season.
The two sides started into the game with all systems go and managed to neutralize each other for 40 minutes. Aris came close to breaking the deadlock with two long-range shot. PAOK stepped on the throttle after the half-hour mark.
They fired a warning shot in the 38th minute when Diego Biseswar and Omar El Kaddouri wasted a huge opportunity in the box. One minute later, though, the captain made his move.
Adelino Vieirinha fired PAOK into the lead with an unstoppable belter from outside the area.
The first half was of low quality and things didn't change after the interval. Aris didn't assume unnecessary risks, while PAOK settled on the ball and applied pressure, but failed to make much creative capital out of the situation.
In the 85th minute, following a free-kick, Vélez equalized with a close-range shot to seal the final 1-1 draw. However the Spaniard scored from an offside position.
Line-ups:
PΑΟΚ: Paschalakis , Μatos, Crespo , Varela , Vieirinha , Shakhov (56' Οliveira), Maurício , Jabá , Biseswar (88' Świderski), El Kaddouri (68' Pelkas ), Akpom .
Aris: Cuesta, Tzanakakis, Vélez, Rose, Korhut (85′ Valerianos), Siopis, Matilla, Larsson, Martínez (64′ Younés), García (89′ Ιntzoglou), Diguiny.