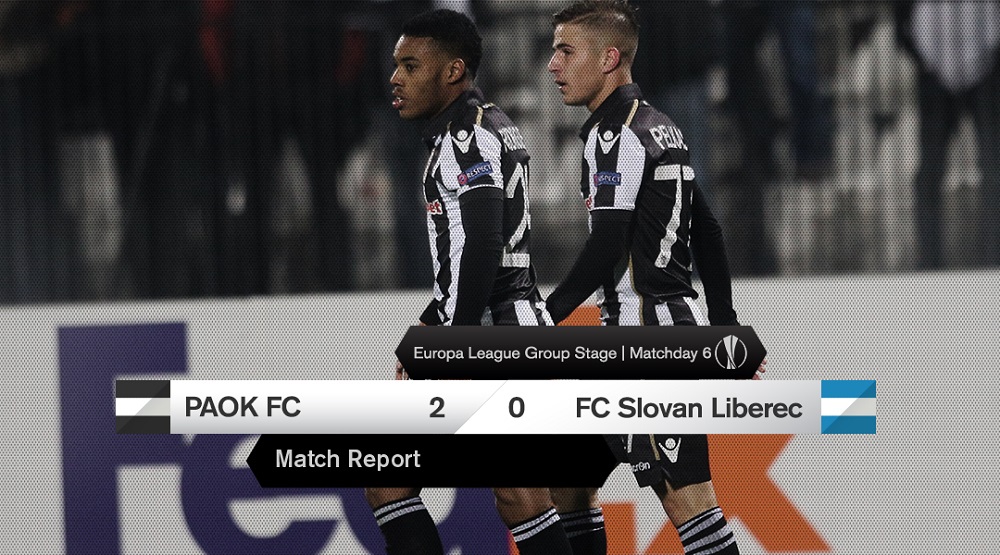 PAOK's adventure in Europe continues
PAOK return to their winning ways and celebrated a 2-0 victory over FC Slovan Liberec and their qualification to the UEFA Europa League last "32" stage.
PAOK fired on all cylinders right from the start, determined to impose their pace and depriving the Czech outfit of space on the pitch. It was a sign of reaction after the latest events and a proof that European football is the best medicine!
The "Two-Headed Eagle" wasted a glorious chance to take an early lead, as Fernando Varela misfired his header with the goal at his mercy after just 3 minutes of play. The home side continued pressuring and Garry Rodrigues came close with a long-range shot that grazed Dúbravka's left-hand post in the 15th minute.
Camped around Slovan Liberec's box in the first half hour, PAOK were eventually rewarded for their efforts in the 29th minute. Léo Matos's cross from the right landed at the feet of Rodrigues who fired home to give his side the lead.
In the 42nd minute, Stefanos Athanasiadis came close to extending PAOK's lead, but his back-heeled shot was saved in extremis by Slovan's goalkeeper. The latter also intervened to prevent Matos's shot from entering. The two teams hit the dressing rooms for the interval with the 1-0 scoreline not reflecting the overwhelming dominance of the "Two-Headed Eagle".
PAOK didn't take their foot off the throttle in the second half. Dimitris Pelkas almost made it 2-0 in the 46th minute, but his shot was cleared by a rival defender. The "black-and-whites" continued pressuring Slovan and confining them to their box. They made their superiority count in the 67th minute, with Pelkas's impeccable finish following a cross by Marin Leovac.
Substitute Efthymis Koulouris wasted a great chance to make it 3-0, with his header flying just above the crossbar in the 85th minute. The final whistle in Toumba Stadium and ACF Fiorentina's victory over Qarabağ FK in Baku signaled PAOK's passage to the knockout stage of the UEFA Europa League.
Line-ups:
PΑΟΚ: Glykos, Μatos, Crespo, Varela, Leovac (82' Μalezas), Cañas, Cimirot, Pelkas (80' Shakhov), Campos, Rodrigues, Αthanasiadis (71' Κoulouris).
FC Slovan Liberec: Dúbravka, Breite, Karafiát (46' Bartl), Coufal, Folprecht (80' Kubyshkin), Komlichenko, Ševčík, Vůch, Bartošák, Ekpai (65' Sýkora), Pokorný.