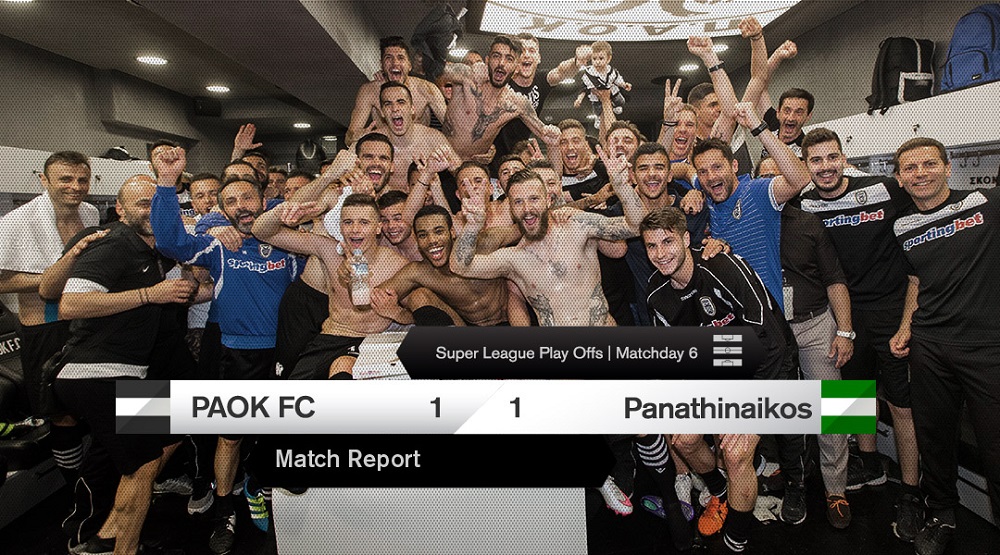 PAOK went through a very long season, but their huge effort paid off at the end as they secured their place among the stars! The "Double-Headed Eagle" drew 1-1 with Panathinaikos and they boast being in the competition they deserve, after overcoming fatigue, injuries, bans and point deductions…
PAOK started strongly and took the lead with a stunner by Garry Rodrigues in the 18th minute. They looked ready to finish off the encounter, but Panathinaikos were lucky to net an equalizer after Lod's shot got deflected by Miguel Vítor in the 28th minute.
It was only natural that PAOK lacked fitness, as they were on their 12th month of non-stop activity. They became stressed and, for more than 60 minutes, the encounter turned into a mind game!
PAOK managed to handle spaces, time and their fatigue. They enjoyed the better opportunities to decide the encounter, through Charis Charisis and Rodrigues. Panagiotis Glykos was called to intervene once, but he produced the save of the season by pushing away Petrić's blasting shot and sealing the valuable draw!
Vladan Ivić's troops and the Serbian coach should be congratulated for their huge focus, mental effort and efficiency that allowed them to win these stressful play-offs.
Next up, the dream! PAOK will embark on a journey to go one step beyond and bring UEFA Champions League football to Thessaloniki!
Line-ups:
PΑΟΚ: Glykos, Kitsiou, Vítor, Malezas, Leovac (67' Skondras), Τziolis, Cimirot, Charisis, Pelkas (60' Korovesis), Rodrigues, Athanasiadis (80' Berbatov)
Panathinaikos: Steele, Moledo, Nano, Koutroubis, Mesto, Lod, Zeca, Abeid (75′ Vlachodimos), Evangelista (63′ Boumal), Leto, Κlonaridis (80′ Petrić)